Alfred Merrill Worden was born in Jackson, Michigan in 1932. He was educated at Jackson High School and, in 1955, graduated with a BMSc degree from the US Military Academy at West Point, New York. In 1963 he received a MSc degree from the University of Michigan.

After leaving West Point, Worden was commissioned in the US Air Force and undertook flight training at air bases in Texas and Florida. He graduated from the Empire Test Pilots School at Farborough, England in 1965, and the following year, NASA selected him to become one of 19 new astronauts.

Whilst Scott and Irwin explored a mountainous region in their Lunar Rover, Worden orbited the Moon alone for three days, photographing the moon's surface with two special cameras which were mounted on the outside of Endeavour.
Worden was backup Command Module pilot for Apollo 12 before being selected (again to pilot the Command Module named Endeavour) as one of the Apollo 15 crew along with Dave Scott and Jim Irwin. The three astronauts blasted off from Cape Canaveral on 26th July 1971.
During the return journey to Earth, Worden undertook a space walk to retreive the film cassettes from the two cameras. This was necessary as the cameras would be jettisoned before re-entry into the Earth's atmosphere.
Worden's 38 minute EVA (extra vehicular activity), part of which which was filmed by Jim Irwin with a 16mm camera) remains the furthest out walk in deep space. Apollo 15 successfully splashed down in the Pacific (although one of the three parachutes failed to open) with subsequent recovery by USS Okinawa.
Worden left NASA in 1975 to become an executive with Jet Electronics. He was inducted into the US Astronaut Hall of Fame in 1997.

He lives with his wife, Jill, in Vero Beach, Florida.
This is the photograph that Al Worden signed for me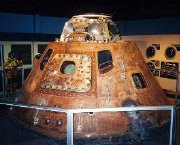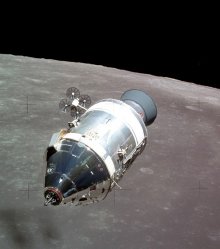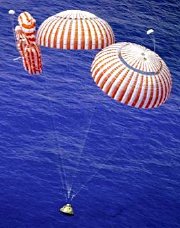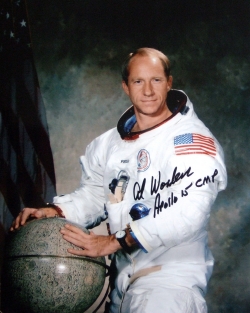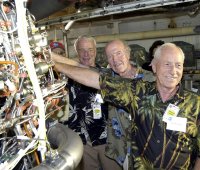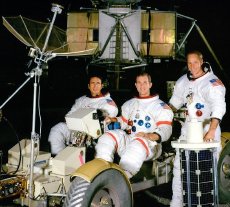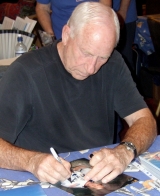 Al Worden signing my photo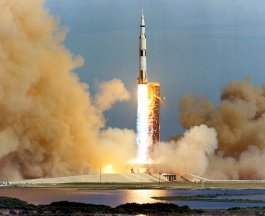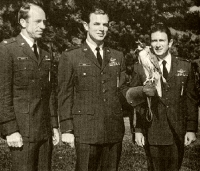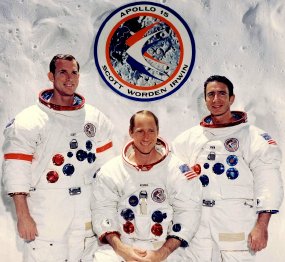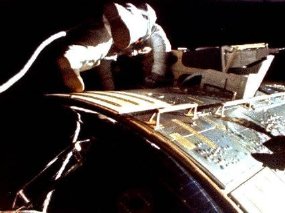 He has signed one of his official NASA photos for me.
at Autographica
Apollo 15 Mission Insignia
Air Force museum at Dayton, Ohio
Apollo 15 Command Module in the US
Apollo 15 splashes down in the Pacific
Scott Carpenter, Gordon Cooper & Al Worden
at NASA's Stennis Space Centre in 2004
Al Worden's 'space walk' as filmed by fellow astronaut Jim Irwin
Official NASA photo of Dave Scott, Al Worden & Jim Irwin
Irwin, Scott & Worden with their lunar rover
Apollo 15 Command Module Endeavour in lunar orbit
Al Worden, Dave Scott & Jim Irwin
Apollo 15 lifts off from
Cape Canaveral

Al Worden (1932-2020)
Click on a name below to take you to that page
I have met Al Worden (one of only 24 men to have flown to the Moon) twice at Autographica. The first time was in London in October 2007, and the second time was in September 2009 in Birmingham.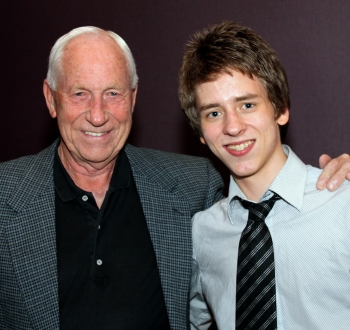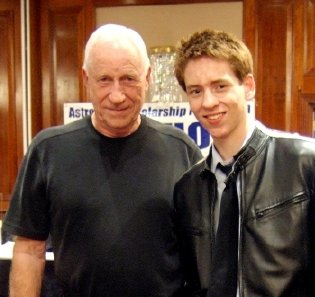 Al Worden with Ciaran Brown at Autographica held in London in 2007
Al Worden died on 18th March 2020.