Dame Barbara Windsor
Click on a name below to take you to that page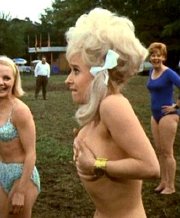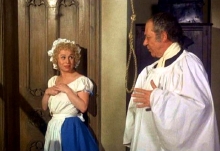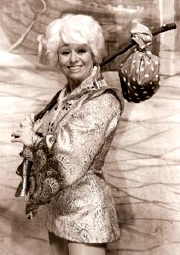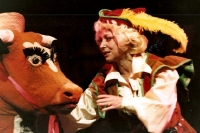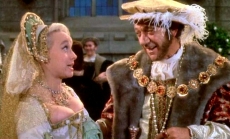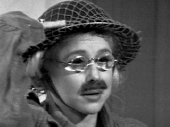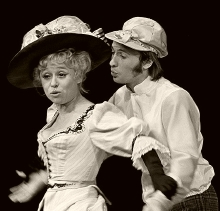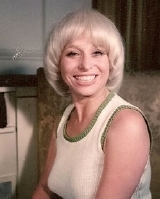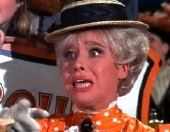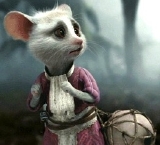 I was thrilled to have the opportunity to meet Barbara Windsor when she was a guest at the Oh! What a Carry On event held at the Cinema Museum, Kennington in November 2015. She signed some items for me, including my Carry On book, my That's Carry On! poster and a photograph. She was really lovely, and so easy to chat to. I also met her husband, Scott Mitchell, who was with her.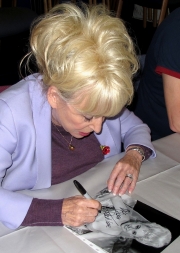 Barbara Windsor (born Barbara Ann Deeks), was born in Shoreditch, London in 1937. Her father, John, was a costermonger and her mother, Rose, a dressmaker. She went to Our Lady's Convent school in Stamford Hill, and also the Aida Foster School of Drama in Golders Green,after
Aged 15, she was in the chorus of the West End musical Love From Judy, at the Saville Theatre. She then worked as a film extra, a singer in West End nightclubs, and a scantily-clad film magazine pin-up of thelate

Barbara signing my photo
Green, after her grandmother took her backstage at a theatre, and she decided that was what she wanted to do.
1950s magazine pin-up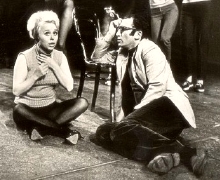 the late 1950s. It was in 1952, Coronation year appropriately, that she began using the name 'Windsor', after her much-loved uncle, Charlie Windsor. Barbara had lived with him, and his family, in Stoke Newington during the war years.
With Lionel Bart in rehearsal for Twang!!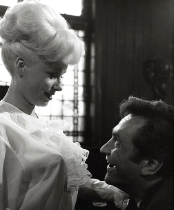 Barbara Windsor & James Booth in
Sparrows Can't Sing
Barbara Windsor's big break came in 1959 with the East End musical Fings Ain't Wot They Used T'Be at the Garrick Theatre. More success followed, this time on the big screen, when she received a British Academy Award nomination as Best British Actress in Joan Littlewood's film Sparrows Can't Sing (1963). The following year, she received a Tony Award nomination when she appeared in the Broadway production of Oh, What a Lovely War! However, another Lionel Bart musical, Twang!! (1965) at London's Shaftsbury Theatre was a complete flop. Based on the Robin Hood story, the show closed within weeks of opening.

In 1970, she landed therole
the role of music hall legend Marie Lloyd in the musical biopic Sing A Rude Song, and by 1972, she was starring opposite Vanessa Redgrave in the West End production of The Threepenny Opera at the Prince of Wales theatre.

With Vanessa Redgrave in
The Threepenny Opera
Windsor as Marie Lloyd in Sing a Rude Song
Barbara Windsor publicity photograph
Up until the late 1990s, Barbara regularly appeared at theatres all over the UK in productions that ranged from Maria in Shakespeare's Twelth Night in 1976atthechichester
1976 at the Chichester theatre to The Mating Game at Blackpool in 1981. That same year, she played the sex-mad landlady Kath, in Joe Orton's Entertaining Mr Sloane at the Lyric Theatre, Hammersmith, directed by Carry On star Kenneth Williams. She reprised this role again at the Churchill Theatre, Bromley in 1993, and followed by a national tour.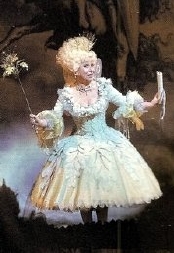 Most years, Barbara Windsor apeared in a pantomime at Christmas, especially Aladdin, Dick Whittington and Cinderella. The pantomime Aladdin at the Theatre Royal in Nottingham in 1981-82, broke all previous records, andeven
Babes in the Wood in 1987
Dick Whittington in 1978
Jack and Beanstalk in 1980
and even entered the Guinness Book of Records. It took more than £2.5million and was so popular that the finishing date kept being extended until it finally finished on 10th April, having run into Easter!
for Entertaining Mr Sloane
Carry On Camping
Barbara Windsor is probably best known for her appearances in nine of the Carry On films between the years 1963-1974.infact
1963-1974. In fact she was so closely associated with these, that it restricted the roles that she was offered for many years afterwards. Her debut role in this iconic series ofcomedy
of comedy films was as Daphne Honeybutt (code name: Brown Cow) in Carry On Spying (1964), a parody of the current film fad at that time - the James Bond films. It evenhad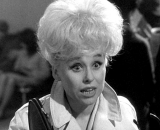 Carry On Spying
even had the Bond-style acronyms, but in the Carry On spirit, like S.T.E.N.C.H and S.N.O.G. It was also the last of the Carry Ons made in Black & White.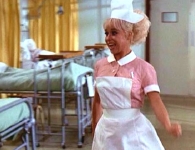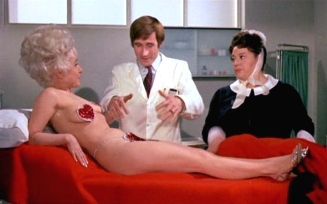 Carry On Doctor
Barbara Windsor, Jim Dale & Hattie Jacques in Carry On Again Doctor
In Carry On Doctor (1967), arguably the best of the whole series, Barbara Windsor is Nurse Sandra May who has her sights seton
set on Dr Tinkle (Kenneth Williams) who once treated her for tonsillitis. Two years later, there followed Carry On Camping (1969) in which she famously loses her bikini top during an exercise session taken by Dr Kenneth Soaper (Kenneth Williams), headmaster of a snooty boarding
boarding school for girls. The film was shot in October, with the grass sprayed green to make it look like the middle of summer! That same year saw Barbara as Goldie Locks (aka Maud Boggins) in CarryOnAgain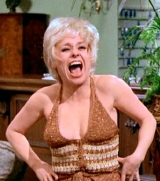 Barbara Windsor & Sid James in Carry On Henry
Carry On Again Doctor (1969). Less successful than Carry On Doctor, it does have one iconic scene with Barbara (wearing nothing
Carry On Girls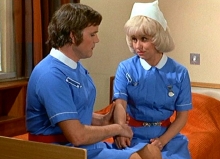 nothing but three hearts!), Hattie Jacques & Jim Dale.
Kenneth Cope & Barbara Windsor in Carry On Matron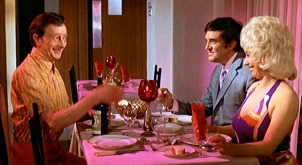 Charles Hawtrey, Jimmy Logan & Barbara Windsor in Carry On Abroad
Carry On Henry (1971) was a more laivshly
laivshly produced example of the genre, and saw Barbara cast as Bettina, the giggly maiden pursued by King Henry (Sid James) who is constantly striving to escape from his garlic eating wife Queen Marie (Joan Sims). Carry On Matron (1972) was the last of the four Carry Onsset
Ons set in a hospital. In this, she plays Nurse Susan Ball, and is her usual bubbly self who wastes little time stripping down to her underwear! That same year saw the release of Carry On Abroad (1972) with Barbara as Sadie Tomkins a holiday maker continually in the sights of Vic Flange (Sid James). The film was shot in the car park of Pinewood Studios, with fire hoses supplying the pouring rain! In Carry On Girls (1973) she plays beauty queen Hope Springs, who is again the target of Sid James' character, the lecherous Sidney Fiddler.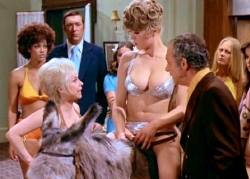 Carry On Girls
Barbara Windsor's last Carry On appearance was in Carry On Dick (1974), where she plays Harriet, assistant to Rev. Flasher (Sid James). The film overflows with double entendres, and this led to her leaving the series because she thought that they werebecoming

were becoming too risqué. She is seen again, however, with Kenneth Williams in That's Carry On! (1977) copresent
(1977) co-presenting a compilation of highlights. They are together in a Pinewood Studios projection room trawling through many film cans of the classic Carry On series, and showing highlights from them.


Barbara Windsor & Sid James in Carry On Dick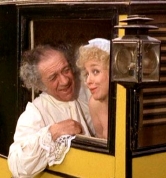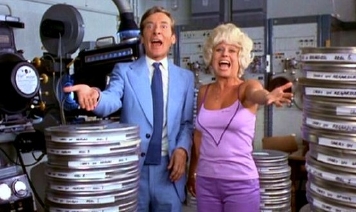 Carry On Dick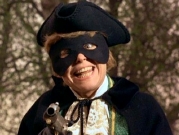 Kenneth Williams & Barbara Windsor in That's Carry On
Carry On Dick
Little did Barbara Windsor know that she would be playing pub landlady Peggy Mitchell for more than 20 yearswhen
years when she was cast in the TV 'soap' EastEnders in 1994. Her catchphrase, "Get outta my pub!" when ejecting people, became well known. She had wanted a part in this when it beganin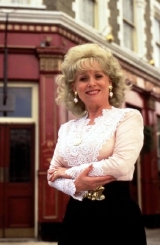 began in 1985, but the producers had decided to only cast unknown actors. They later relaxed this, which allowed Windsor to take over the role from Jo Warne. It proved so successful that she won the 'Best Actress' award in 1999 and a 'Lifetime Achievement Award' in 2009both
As Peggy Mitchell in EastEnders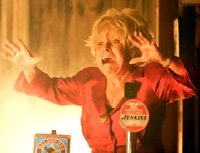 The Queen Vic pub burns in 2010
2009, both from The British Soap Awards. Wanting to spend more time with her husband, Barbara Windsor decided to leave the show, and her character departed in September 2010, following a disastrous fire at the 'Queen Vic' pub. In all, she appeared in over 1,550 episodes of the series.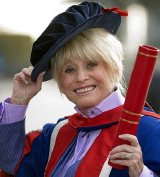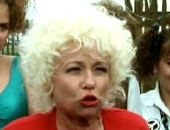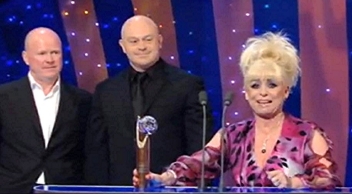 Barbara Windsor with her 'Llifetime Achievement Award' in 2009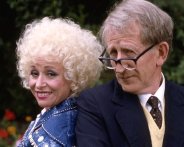 Voice of the Dormouse in
Alice in Wonderland
Barbara Windsor & Lance Percival
in Bluebirds
Chitty Chitty Bang Bang
As Laura La Plaza in Dad's Army
Sir Norbert Smith, a Life
Other TV series in which Barbara Windsor had roles include The Rag Trade (1963); Dad's Army (1968); Up Pompeii! (1970);Worzel

(1970); Worzel Gummidge (1980); Bluebirds (1989); YouRa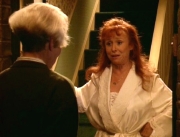 You Rang M'Lord? (1991); One Foot in the Grave (1995) and Doctor Who (2006), in which she appeared as her EastEnders character Peggy Mitchell. She also provided the voice of the Dormouse in the Walt Disney adaptation of Lewis Carroll's Alice in Wonderland (2010) directed by Tim Burton.
Annette Crosby & Barbara Windsor in
One Foot in the Grave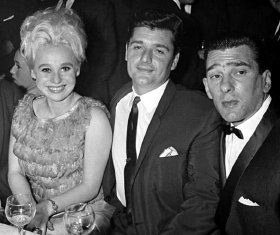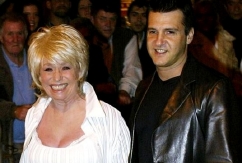 Barbara Windsor has been married three times.
Barbara Windsor & Scott Mitchell
Barbara Windsor, Ronnie Knight & Reggie Kray
times. Her first husband was the small time crook Ronnie Knight, an associate of the notorious Kray twins from Bethnal Green. He had become Britain's most wanted man after his involvement in a robbery. This marriage lasted nearly 21 years before a divorce in 1985. In 1986 Barbara Windsor married Stephen Hollings, who was a chef from Yorkshire, and 18 years her junior. They bought a pub and restaurant in Buckinghamshire, which later collapsed
collapsed along with their marriage, and divorce followed in 1995. Hollings then acrimoniously sold his story to the tabloid newspapers.
Since April 2000, Barbara has been married to the former actor, now a recruitment consultant, Scott Mitchell. She has no children, but her autobiography reveals that she's had five abortions. Before her marriage to Ronnie Knight, she had a one-night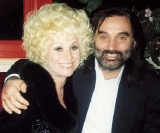 Barbara Windsor & George Best
In July 2000, Barbara Windsor received the MBE from the Queen, at Buckingham Palace, and in 2010 was given the Freedom of the City of London. In 2014, she was awarded an honorary doctorate from the University of East London. She was made a Dame in the 2016 New Year's Honours, for services to entertainment and for her charity work.

Barbara with her honorary doctorate
Barbara has signed this Carry On Spying photo to me
During 2006, Barbara was the subject of the TV programme Who Do You Think You Are? In which famous people trace their family history backthrough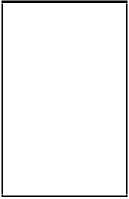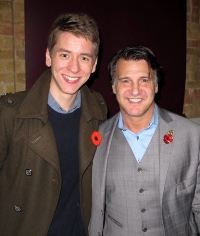 Ciaran Brown with Scott Mitchell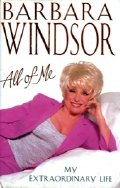 one-night stand with Reggie Kray. She later had affairs with both Sid James and the footballer George Best, which are described in her 2001 autobiography, All of Me: My Extraordinary Life.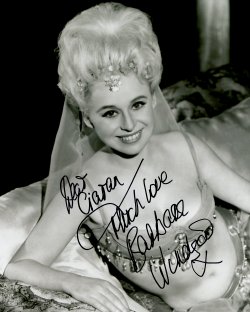 back through previous generations. She discovered that she was related to to the artist John Constable. This link gives all the details: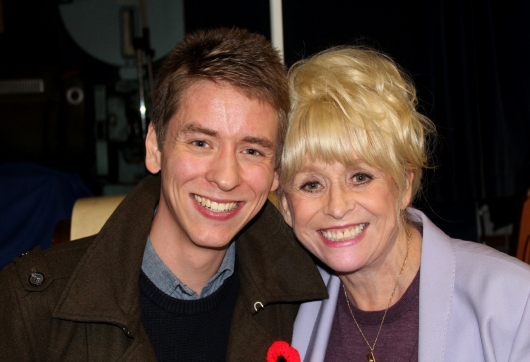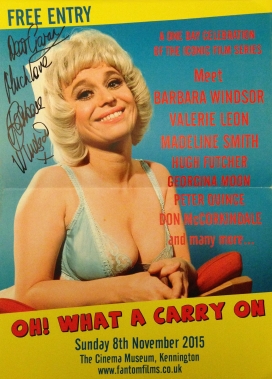 Poster, signed by Barbara Windsor, for the event that I attended
Barbara's autobiography