When Bill Shankley took over as Liverpool manager, he tried to sign Wilson from Huddersfield, but it was the other Merseyside club, Everton, that he joined in 1964. Two years later, he won an FA Cup winner's medal with Everton at Wembley, and would soon be there again for the World Cup finals.
Wilson was spotted by a scout from Huddersfield Town when he was playing football for a local amateur team in 1952. By 1955 he had signed as a professional with the club, then managed by Bill Shankley, who had seen Wilson's potential as a fast and fierce left back. He made his debut against Manchester Utd, the first of the 266 league games he played for Huddersfield.
Following a knee injury in 1968, Wilson was not the same player again and, after brief spells at Oldham (as a player) and Bradford City (as caretaker manager), he retired from football completely in 1971 to develop his undertaker's business. He retired from that too in 1997, to enjoy relaxing and walking the Yorkshire hills near his Halifax home.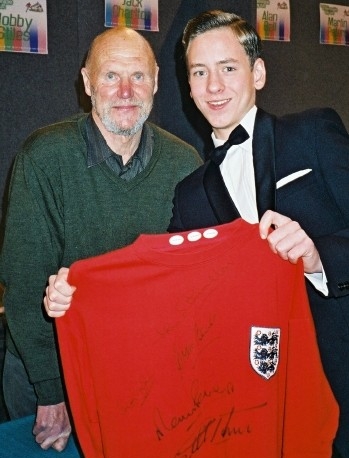 Ray Wilson at Everton
Ray Wilson at Huddersfield
Ray Wilson in action for England against Brazil in 1962
In 2002, Ray Wilson sold his World Cup winner's medal for £70,000 to provide funds for himself and his wife in retirement.
Ray Wilson's services to England were belatedly recognised in 2000 when he was awarded the MBE in the New Year's Honours list, along with four other team mates - Alan Ball, George Cohen, Roger Hunt and Nobby Stiles.

Wilson played in all the 1966 Group matches, the quarter and semi-final, which took the England team into the final itself against West Germany. It was Wilson who gave away England's first goal, "the only mistake he made in 63 internationals," according to Alf Ramsey. Wilson, at 31, was the oldest player in the team and achieved the rare cup double (FA Cup & World Cup) that year.
As a no-nonsense, non-showy type, Ray Wilson remains the least well known of the England World Cup players. At the end of the game, Wilson and Hurst hoisted Bobby Moore on to their shoulders. "Nearly all the other players were celebrating round the pitch and they needed someone to help lift Bobby, otherwise I wouldn't have been there," recalled the normally reserved Wilson. Because of this, Ray Wilson has now been immortalised in Philip Jackson's statue in Green Street close to the West Ham stadium.
Ray Wilson was born in Shirebrook, Derbyshire, in 1934. His mother christened him Ramon after her favourite film star, Ramon Novarro, but he quickly changed it to Ray. "Not easy growing up in a Derbyshire mining village full of hairy-arsed miners, with a name like that," he says!
I met Ray Wilson at the NEC in November 2005, along with other members of England's World Cup winning team. He signed my England shirt and then I had this photograph taken with him.
Wilson was first capped for England in 1960, whilst at Huddersfield, and went on to play 63 international matches in total over the next 8 years.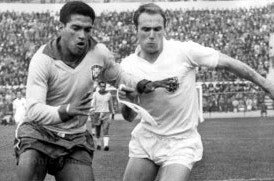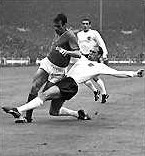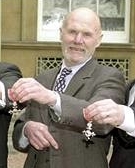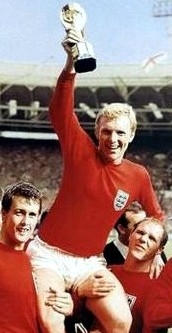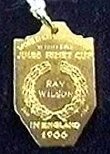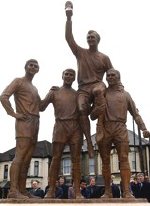 He is seen here with the legendary Garrincha
Ray Wilson in action against
Portugal in the 1966 semi-final
Philip Jackson's statue recreates the scene when Bobby Moore is lifted up on to
the shoulders of Geoff Hurst and Ray Wilson
Ray Wilson with his MBE

shirt autograph



Ray Wilson (1934-2018)
Click on a name below to take you to that page
Ray Wilson died on 16th May 2018.