June's first big success came in 1953 when she became a regular on the radio series Take It From Here with Jimmy Edwards and Dick Bentley. Everybody knew her as Eth from the show's weekly sitcom sketch 'The Glums'.
During the 1950s and early 1960s, she appeared in countless sketch and variety shows, including those starring Tony Hancock, and most memorably playing the nurse The Blood Donor.
Although she trained as a straight actress, and as a young woman worked in London's West End with such theatrical luminaries as Noel
June Whitfield was born in Streatham, London, in 1925. She made her first stage appearance at the age of three after her mother took her to a dance dance school. June later attended Streatham High School. In 1944 she graduated with a diploma from the Royal Academy of Dramatic Art.
June Whitfield's long association with Terry Scott as his 'screen wife' began in 1968 in the BBCs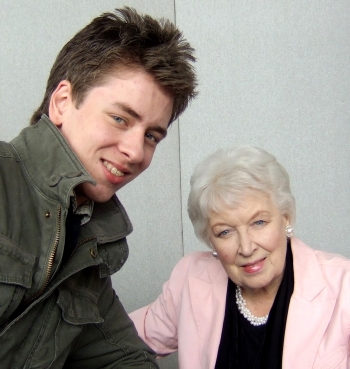 I was delighted to meet June Whitfield, one of Britain's best loved comedy actresses, at Milton Keynes in May 2008. After telling her how much I enjoy the Carry On films, she signed my Carry On book and the original Carry On poster which I bought at Pinewood Studios where the films were made. June also personalised one of her promotion photographs of Carry On Abroad for me.
June signing my Carry On poster
June has guest-starred in shows like The Goodies and, since 1992 has played Jennifer Saunders' mother in the enormously successful television sitcom Absolutely Fabulous which ran for more than thirteen years.
More serious roles for the BBC have included Alan Plater's The Last of the Blonde Bombshells (2000), Miss Marple on Radio 4 and, in 2002, the West End production of Alan Ayckbourn's Bedroom Farce with Richard Briers.

In 1982, June Whitfield was made a Freeman of the City of London, and was honoured with an OBE in 1985 and a CBE in 1998.
June Whitfield has four Carry On films to her name, and
spanning their history! Her first was as Leslie Phillips'
June plays Evelyn, Kenneth Connor's bossy wife in Carry On Abroad (1972). June commented, "I was delighted when offered a part in Carry On Abroad and wondered where, in sunny Europe, we would be filming. Alas, the location turned out to be a car park at Pinewood!"
She played the outraged feminist councillor Augusta Prodworthy in Carry On Girls (1973). Strangely, June also dubbed the voice of Valerie Leon's character Paula Perkins (this wasn't the first time Valerie's lines had been dubbed in films, although she has a perfectly clear speaking voice). I asked June about this but she diplomatically said that she couldn't remember why she was asked to do so!

June Whitfield also had the cameo role of Isabella, the Queen of Spain in Carry On Columbus (1992) with Leslie Phillips as the King of Spain. Their two little scenes are highlights in an otherwise unsuccessful film.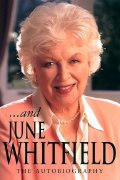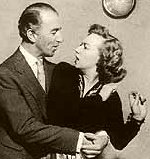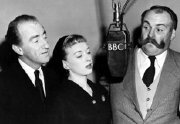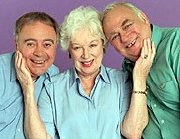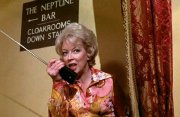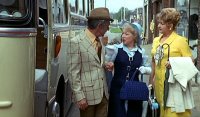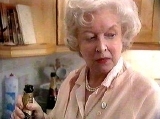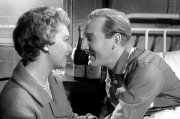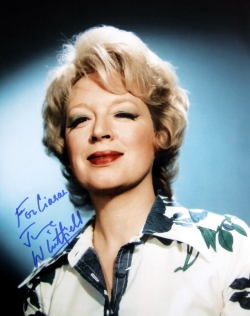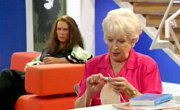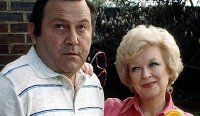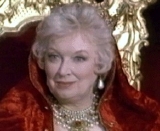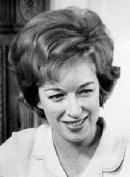 has always preferred comedy and has appeared with many of the great names in British comedy

Coward and John Gielgud. She
Like Morecambe & Wise, Tommy Cooper, Benny Hill, Arthur Askey, Dick Emery, Frankie Howerd and Ronnie Barker - just to name a few!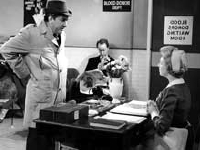 June Whitfield in 1969
June Whitfield & Hancock in The Blood Donor
to many episodes of Happy Ever After (1974-78) and Terry & June (1979-87).

Scott On... series. This led
For more than fifteen years June Whitfield was
was a regular on the radio show The News Huddlines (with Roy Hudd and Chris Emmett) often impersonating well known people, notably the British Prime Minister of the time, Margaret Thatcher.

Chris Emmett, June Whitfield
& Roy Hudd, stalwarts of
The News Huddlines
Terry Scott and June Whitfield
June personalised this Carry On promotion photo for me
In 1990, June took part in the TV game show Cluedo (based on the board game) playing Mrs White the hou
housekeeper in 6 episodes. The series featured many of the best loved British actors and actresses of the time, and was immensely popular during its three-year run.
June Whitfield as Mrs White in Cluedo
girlfriend in Carry On Nurse (1959).
June with Leslie Phillips in Carry On Nurse
Sid James, June Whitfield & Joan Sims
Kenneth Connor & June Whitfield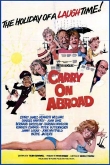 In Carry On Abroad
In Carry On Abroad
June Whitfield in Carry On Girls
June with Patricia Fleming in Carry On Girls
June Whitfield in Carry On Columbus

Her autobiography, ....and June Whitfield, was published in 2000.

She was married to Tim Aitchison (a chartered
surveyor) until his death in 2001. Their daughter, Suzy Aitchison, has become a successful actress in her own right.
Suzy Aitchison
...and June Whitfield

VIDEOS
June Whitfield & Richard Briers in
Bedroom Farce
Jennifer Saunders & June Whitfield in
Absolutely Fabulous
June with Dick Bentley & Jimmy Edwards
Take It From Here
Dick Bentley & June Whitfield
Ron & Eth in The Glums
OBE


Dame June Whitfield (1925-2018)
Click on a name below to take you to that page
June Whitfield died on 29th December 2018.
June Whitfield was made a DBE (Dame Commander of the British Empire) in the 2017 Birthday Honours for services to drama and entertainment.