Click on a name below to take you to that page
Robert Vaughn (1932-2016)
I was delighted to meet Hollywood actor Robert Vaughn at Memorabilia held at the Birmingham NEC in March 2009. He signed my autograph book, a Magnificent Seven masterprint, a photograph and my copy of his autobiography.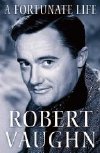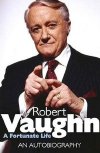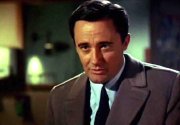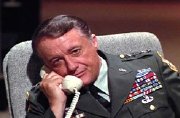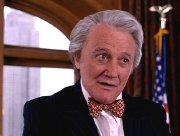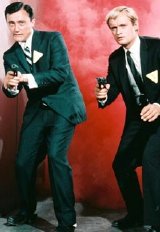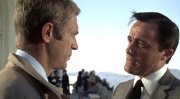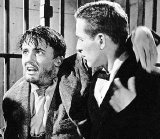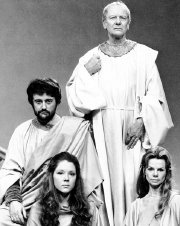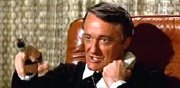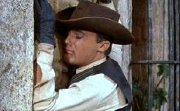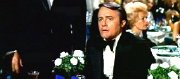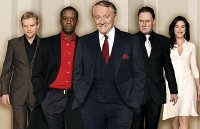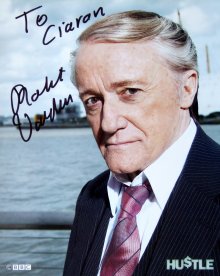 Robert Francis Vaughn was born in New York in 1932. The son of show-business parents, his father, Walter, was a radio actor and his mother, Marcella, was a stage actress. He was brought up in Minnesota, and later Los Angeles where
Vaughn as Hamlet in 1960
After a number of minor film and TV roles, including the cult classic Teenage Cave Man in 1958, Vaughn came to the public's attention after he was nominated for
for an Oscar for his role in The Young Philadelphians (1959) with Paul Newman. The
following year he appeared as Gunman Lee, one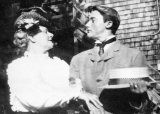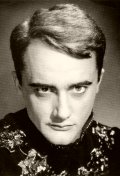 he earned a Master's degree in theatre, and also a Ph.D. at the University of Southern California. His mother had encouraged him to act from a very early age. Aged six, he recited Shakespeare to the legendary John Barrymore, and throughout his teens appeared on stage many times.
play Life with Father in 1948
Robert Vaughn and his mother in the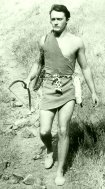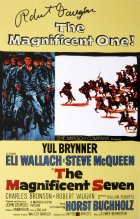 one of 'the seven' in the western classic The Magnificent Seven (1960). In a strange twist, Vaughn
Teenage Cave Man
Robert Vaughn in
Robert Vaughn signed my master-
print of The Magnificent Seven
Robert Vaughn & Paul Newman in
The Young Philadelphians
would recreate this character twenty years later as Gelt in Battle Beyond The Stars (1980). Vaughn is the only one of the original 'Seven' actors still alive.

Most of Vaughn's work around this time was for TV, with countless 'guest star' appearances
Lee (Robert Vaughn) is shot in
The Magnificent Seven
Robert Vaughn in The Protectors
appearances, but in 1963 he was offered a major role in US Marines series The Lieutenant (1963) which he took in order to make the transition from 'guest-star' roles to 'co-star' roles on TV.

This led to producer Norman Felton offering him the role of the ultra-cool sec
Robert Vaughn as Napoleon Solo in
The Man From U.N.C.L.E.
Robert Vaughn & David McCallum in
The Man From U.N.C.L.E.
With this series, Vaughn became a household name, both in America and, more especially, in Britain. His British co-star was David McCallum who played fellow-agent Illya Kuryakin. The series ran for four years, and became one of the mo
most popular TV shows of the 1960s. Eight feature films were eventually taken from the series.

The Man from U.N.C.L.E. made Vaughn an international TV star, but he wanted to do more films. He had immediate success by co-starring as Chalmers, an ambitious Cal

Californian politician, in the gritty, all-action drama Bullitt (1968) with Steve McQueen.

Steve McQueen & Robert Vaughn in Bullitt
Robert Vaughn as Chalmers in Bullitt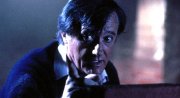 Other films, including The Bridge at Remagen (1969) and The Mind of Mr Soames (1970), quickly followed before Vaughn returned to TV, this time in England, taking a lead role alongside Nyree Dawn Porter in the series The Protectors (1972).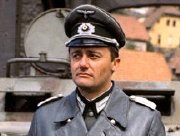 During the 80s and 90s, Vaughn continued to mix film and TV work. Superman III (1983), The Delta Force (1986) and Black Moon Rising (1986) were some of his big-screen highlights, whilst on TV he will be well remembered as General Hunt Stockwell in 13 episodes of The A-Team screened in 1986 & 1987.

Vaughn & Nyree Dawn Porter
Robert Vaughn in The Bridge at Remagen
Robert Vaughn in Buried Alive
Robert Vaughn in The Delta Force
Robert Vaughn in Joe's Apartment
Robert Vaughn in The Towering Inferno
Robert Vaughn in S.O.B.
Robert Vaughn & Ernest Borgnine
in Skeleton Coast
During the 1990s, Vaughn appeared in many made-for-TV movies along with series like Law & Order (1998). He also played the role of Judge Oren Travis in the 1998 series that was a remake for TV of the 1960 classic film in which he
appeared, The Magnificent Seven.
secret agent Napoleon Solo in The Man from U.N.C.L.E. (1964) a 'tongue-in-cheek' spy series, which followed in the wake of the hit James Bond films.

Since 2004, Vaughn has co-starred in the British series Hustle, made for the BBC, and also broadcast
broadcast in America on the cable network AMC. In the series Vaughn plays con man Albert Stroller, a father figure to a group of younger
swindlers.
Robert Vaughn has signed this Hustle photo to me
During his acting career, Vaughn has appeared on stage many times, notably in Shakespeare. An
all-star film version of
Robert Vaughn, John Gielgud, Diana Rigg
& Jill Bennett in Julius Caesar
of Shakespeare's Julius Caesar (1970), with a cast that included John Gielgud, Christopher Lee, Charlton Heston and Diana Rigg, did not turn out to be a particularly successful adaptation of the original play.
Robert Vaughn's autobiography A Fortunate Life was published in 2008. In the Introduction, Vaughn says, "With a modest amount of looks and talent and m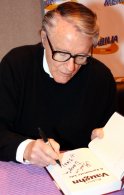 more than a modicum of serendipity, I've managed to stretch my 15 minutes of fame into more than half a century of good fortune."

Since 1974, Vaughn has been married to Linda Staab, an actress who appeared with him in an episode of The Protectors in 1973. They have two adopted children.
To quote the book's advertising 'blurb' - "In this fascinating biography, Vaughn recounts...the trials and tribulations of life as a successful actor, from hot dates, and having an FBI file because of his anti-Vietnam stance, to being attacked in a restaurant by drunken basketball fans. Vaughn befriended such luminaries as Bobby Kennedy and stars such as

as Jack Nicholson; met presidents at parties and had many adventures with celebrities from Elvis and Judy Garland to Steve McQueen and Elizabeth Taylor."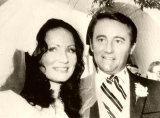 Robert Vaughn signs my copy
of his autobiography
Robert Vaughn and his wife Linda
Marc Warren, Adrian Lester, Robert Vaughn,
Robert Glenister & Jaime Murray in Hustle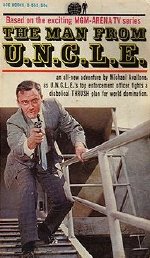 Novel based on the TV series
The Man from U.N.C.L.E.
Robert Vaughn died on 11th November 2016.