Shane Rimmer was born in Toronto, Canada, but has lived in England for nearly fifty years.
Shane Rimmer has also appeared in three James Bond films, as a radio operator in You Only Live Twice (1967), as Tom in Diamonds Are Forever (1971) and his most substantial role as Captain Carter (aka Commander Carter) in The Spy Who Loved Me (1974).
He is well known as a supporting actor, with small roles in an enormous number of films and TV series. His earliest film role was in Flaming Frontier (1958) but appearances in well known films like Superman II (1980), Ghandi (1982) and Out Of Africa (1985), have followed since.
The other string to Shane Rimmer's bow is as a 'voice-actor'. He has provided the voice-over for many commercials like Pepsi, Alpen, Volvo, Saab, Smith's Crisps and Stork Margarine. However, his most famous 'voice-role' is that of Scott Tracy, the pilot of Thunderbird 1, in Gerry Anderson's long running TV series Thunderbirds. Rimmer not only voiced Tracy for the 32 episodes of Seasons 1 and 2 during 1965 & 1966, but several other characters as well.
Shane Rimmer's TV appearances are far too numerous to mention, but his credits have included Dr Who, The Saint and several different roles in Coronation Street.


People That Time Forgot
Shane Rimmer as Hogan in
The Spy Who Loved Me
Scott Tracy - Thunderbirds
Carter is the skipper of an American nuclear submarine, and he helps Bond to get on board Stromberg's supertanker The Liparius and also his ocean palace Atlantis.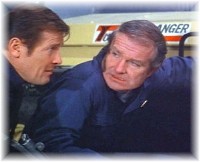 I first met Shane Rimmer at Memorabilia in August 2004, and he signed a photograph for me of him as Captain Carter.
I met him again at Starcon in September 2006 when this photo was taken. He signed my Jeff Marshall lithograph, and also two of my Thunderbirds models that I had already got signed by Gerry Anderson. Shane even wanted to buy one of them from me!!
Shane Rimmer with Roger Moore in
This is the photograph that Shane Rimmer signed for me


Click on a name below to take you to that page
Shane Rimmer (1929-2019)
Shane Rimmer died on 29th March 2018