Patricia Quinn
Click on a name below to take you to that page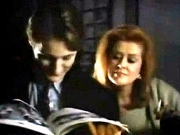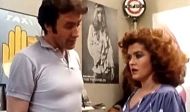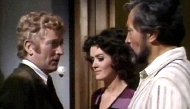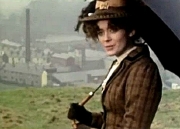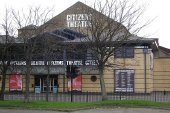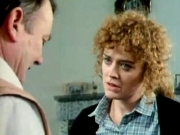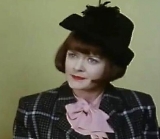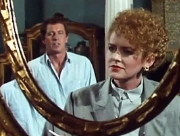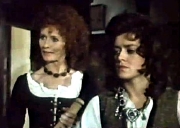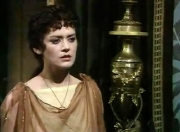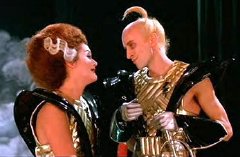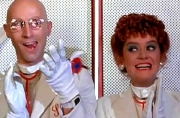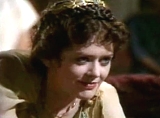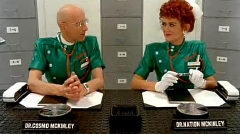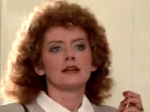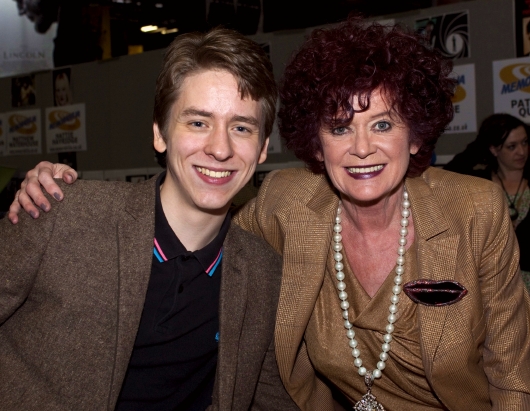 I first met Patricia Quinn when she was a guest at the Dragon Con in Atlanta, Georgia, in August 2012. I was pleased to meet the Rocky Horror star again at Memorabilia in November 2012, at the NEC in Birmingham.
Patricia Quinn was born in Belfast, Northern Ireland, in 1944. Her father was a well-known bookie, and she has an older brother and a younger sister. At school, she was a champion gymnast.

Patricia Quinn as Christabel Pankhurst in Shoulder to Shoulder
Barry Foster, Patricia Quinn & Walter Brown
As Susan White in The Bill
Virginia Mckenna & Patricia Quinn in
Patricia Quinn & Larry Lamb in Fox
As Jim's girlfriend in The Alf Garnett Saga
Patricia Quinn & John Nettles in Bergerac
Patricia Quinn & Denholm Elliott in
Clifton Jones & Patricia Quinn in
Patricia Quinn & Ben Kingsley in The Love School
Patricia Quinn as Livilla in I, Claudius
With Frankie Howerd in Up the Chastity Belt
Quinn as Magda in Up the Front
Patricia Quinn as Mona Castlebar in Fortunes of War
Quinn & O'Brien in Shock Treatment
In 1963, nineteen-year-old Patricia made her first television appearanceinan
Quinn
The Citizens Theatre, Glasgow
Patricia
Patricia Quinn as Sylvia in
In 1973 Patricia Quinn auditioned for a role in a production at the Royal Court's Theatre Upstairs, that would bring her lifelong fame. It was Magenta in the theatrical version of The Rocky Horror Show, which began as a 3-week stage show in a small, 65-seat experimental theatre space, and later went on to become a world-wide entertainment phenomenon, which is still popular 40 years later.
Royal Court Theatre.
Parkin's Patch
Patricia Quinn & Richard O'Brien in The Rocky Horror Show at the
Royal Court Theatre Upstairs in 1973
Patricia Quinn went on to reprise the role of the seductive, red-haired usherette Magenta, in the later film version The Rocky Horror Picture Show (1975). The famous red lips that appear over the film's opening credits, and became the film's iconic poster image, belong to Patricia Quinn, who hadsung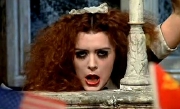 Quinn & O'Brien in The Rocky Horror Picture Show
Patricia Quinn as Magenta
had sung the opening song 'Science Fiction/Double Feature' during
during the staged musical, but in the film it is sung by the show's writer and composer Richard O'Brien. She again reprised the role on stage for a UK tour in 1994, and has always revelled in the fame that the role has brought her.

Following on from The Rocky Horror Picture Show was its sequel Shock Treatment (1981) with
with Patricia Quinn & Richard O'Brien as doctors. Co-written by O'Brien and the director Jim Sharman, the film features a host of well-known names including Rub Wax, Rick Mayall & Barry Humphries.

Quinn & O'Brien in Shock Treatment
Patricia Quinn appeared in a further 25 stage productions over the next thirty five years. Her roles include Sarah
Sarah Bernhardt in Sarah B Divine at the Jeanetta Cochrane Theatre (1972); Lady Macbeth in Shakespeare's Macbeth at the Bristol

Bristol Old Vic (1976); Susannah in Ayckbourn's Bedroom Farce at the Prince of Wales Theatre (1978); Miss Lowell in Light Up the Sky at the Old Vic (1985) and Dorothy Parker in Wild Women at the Albany Theatre (2005). Another notable production was when she played herself in Patricia Quinn Saved my Life at the Edinburgh Fringe Festival in 2004.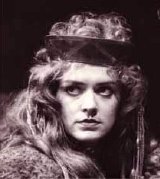 Patricia Quinn as Lady Macbeth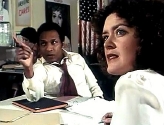 in Van der Valk
The Professionals
From the early 1970s, Patricia Quinn has made appeared
appearances in a number of TV productions over a 25-year period.
period. There were one-off roles in a various series like Van der Walk (1972), Well Anyway (1976), The Professionals (1978); Tales of the Unexpected (1980) and Bergerac (1988). Shehadmore
She had more substantial recurring roles too - as Christabel Pankhurst in six episodes of Shoulder to Shoulder (1974); Lizzie Siddall in three episodes of The Love School (1975) a series about the Pre-Raphaelites, in which she starred with Ben Kingsley; andLivilla
and Livilla in four episodes of I, Claudius (1976).
Tales of the Unexpected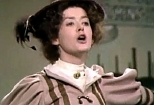 Beauty and the Beast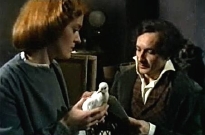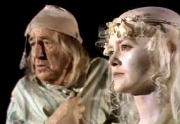 With Michael Hordern in A Christmas Carol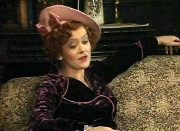 In the 1980s Patricia Quinn played Sylvia Daisy Pouncer in the award-winning children's classic series The Box of Delights (1984) and Mona Castlebari
Castlebar in the mini-series Fortunes of War (1987). In both of these, she played alongside her future husband Robert Stephens. She would appear yet again with him in England, My England (1995), a film about the life of the English composer Henry Purcell, in which Quinn is cast as his wife Elizabeth Purcell.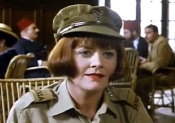 in The Box of Delights
Patricia Quinn as Sylvia Daisy Pouncer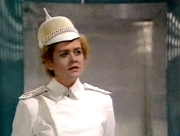 Patricia Quinn as Belazs in Doctor Who
Quinn will also be remembered by Doctor Who fanatics as Belazs in the story Dragonfire (1987) back in the days when Sylvester McCoy was The Doctor.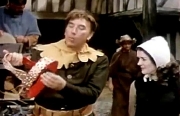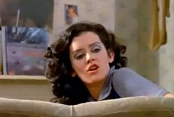 Apart from The Rocky Horror picture Show, Patricia Quinn's film roles have been insignificant ones. Her early films included the spin-offs from TV series Up the Chastity Belt (1971);
(1971); Up the Front (1972) and The Alf Garnett Saga (1972), while her later film roles included Siobhan in the Belfast drama The Outsider (1980); Mrs Williams in the Monty Python comedy
comedy The Meaning of Life (1983) and Margot in the drama The Countess Alice (1993).
Patricia Quinn & Duncan Bell in
The Countess Alice
Patricia Quinn as Mrs Williams in
The Meaning of Life
In 1963, Patricia Quinn married the actor/director Don Hawkins and they had a son Quinn Hawkins (b.1970), who is now a barrister. They divorced in 1975, although they still remain on good terms.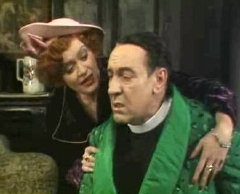 In 1995 Patricia Quinn married her long time partner, the actor Robert Stephens but within a year she was widowed, following his death after a long illness. She became stepmother to his two actor sons (Toby Stephens and Chris Larkin) from his previous marriage to Dame Maggie Smith. Robert Stephens had been knighted in 1995, giving his wife the title of Lady Stephens.

Patricia Quinn & Robert Stephens in The Box of Delights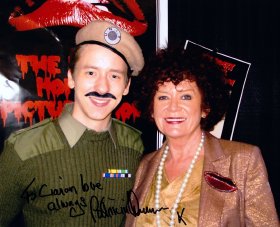 Patricia Quinn has signed this photo of us both together at the
Dragon Con in Atlanta, Georgia (Sept 2012)

VIDEOS
appearance in an episode of the ground breaking police drama series Z Cars. Then, after a small part in the 16th century drama Ralph Roister Doister that same year at the Little Theatre in Bristol, she went on to train at Drama Centre London. To gain more stage experience, she followed this withaseason
with a season in rep at the Glasgowcitizens
Glasgow Citizens Theatre. The director there, Philip Prowse, called her 'the most brilliant actress ever to pass through their doors'. She was also cast as Sylvia in an episode of another police drama series Parkin's Patch before returning to London in 1970 to appear as Melody in the award-winning play AC/DC at the Royal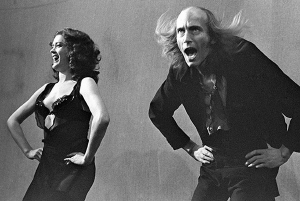 Quinn featured in the TV movie Beauty and the Beast in 1976, and in the following year appeared as the Ghost of Christmas Past alongside Michael Hordern, and a cast of well-known British actors of the dayincharles
day, in Charles Dickens' A Christmas Carol.