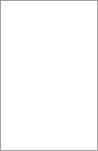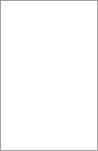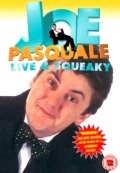 Joe Pasquale
Click on a name below to take you to that page
Joseph Ellis 'Joe' Pasquale was born in 1961, at Grays in Essex, of Italian descent. His father, Joseph, worked in a margarine factory and his mother, Ethel, was a housewife. He has two older sisters, Julie and Lorraine, and a younger brother, Paul. He went to Torells Comprehensive School in Grays where one of his classmates was the 1987 World Javelin Champion Fatima Whitbread.

I met Joe Pasquale at the Nottingham Theatre Royal in January 2012, after seeing him as Muddles in the pantomime Sleeping Beauty. He signed my programme, and also a photograph for me, and I had a chat with him, about how he got into show business.
He is so friendly and good humoured, that it is not hard to see why he is such a popular entertainer. I had two nice photographs taken with him as well.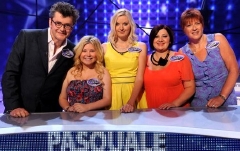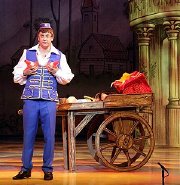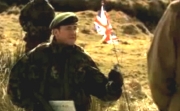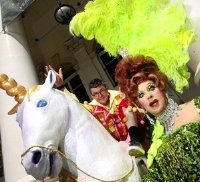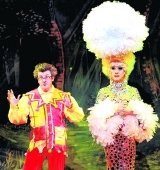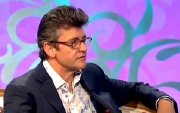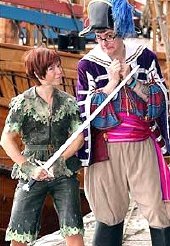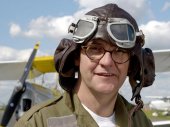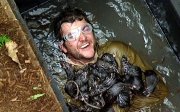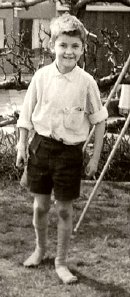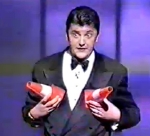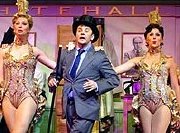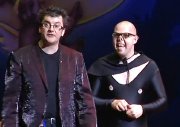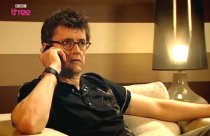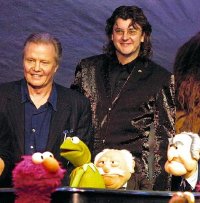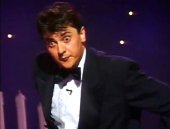 Joe Pasquale left school at 15, and had a range of jobs - clerical assistant, factory worker, plasterer - before becoming a Green Coat, organising and entertaining the holidaymakers at Warners Holiday Camps. He became entertainment manager at Warner Holidays Corton in Suffolk, and later at Torquay.

He started entering numerous talent competitions
competitions in the early '80s. His big break came in 1987 with the TV talent show New Faces, when he won his heat before coming second to the ventriloquist Jimmy Tamley in the final.
Joe Pasquale on New Faces
Joe Pasquale aged 13
In 1993, with a successful solo stand-up tour under his belt, Joe made his debut in the Royal Variety Performance, and has made four more appearances since, in 1995, 1997, 1999 and 2005. He is rumoured to be a favourite of the Royal family, which goes some way to explain his many Royal Variety performances.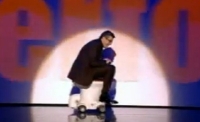 Joe Pasquale at a Royal Variety Performance
1996 saw Joe embark on his Live
Live and Squeaky tour which was later released on video. This achieved sales in excess of £1million, earned him a British Video Association award, and further increased his popularity. Twin Squeaks (1997) and Bubble and Squeak (2000) were later tour successes available on video & dvd.

In 2001, Joe Pasquale was the only British performer
performer to be invited to appear in a 25th Anniversary edition of TheMup
The Muppet Show in Los Angeles, alongside one of his heroes, the American actor Jon Voight, who has since become one of Joe's biggest fans.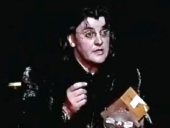 Joe Pasquale & Jon Voight with some Muppets
Joe Pasquale in the 25th Anniversary of
The Muppet Show in 2001
Each year, Joe's popularity grew, and he enjoyed great success all round the country with his se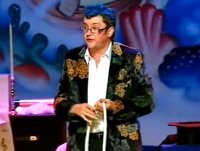 Joe Pasquale on Jason Manford's
Comedy Rocks show
Joe Pasquale on stage
Joe Pasquale on stage
his sell-out shows, including his 10th Anniversary stand-up tour in 2003, which was followed by his The Everything
Everything I Have Ever Done&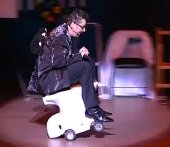 Done & The First of Many Goodbye Tours in 2004, and his Joe Pasquale - Does He Really Talk Like That? tour in 2005. Ray Tizzard, Joe's tour manager often appears on stage with him as Joe's "twin brother" Raynard.
Joe Pasquale with Ray Tizzard as Raynard
Joe Pasquale on stage
Joe had turned his hand to acting
acting for the first time in 1999, when he played the lead role of Willum Cubbert in Larry Shuh's critically acclaimed play The Nerd which toured the UK for 12 weeks. Joe's later stage work included

Joe with his 'silly cone implants'
With Royce Mills in Tom, Dick and Harry
included the Ray Cooney farce Tom, Dick and Harry at Windsor's Theatre Royal in 2003, and the philosophical role of Guildenstern in Tom Stoppard's play Rosencrantz and Guildenstern Are Dead at the Jersey Opera House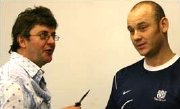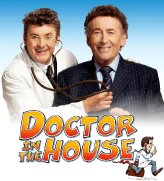 Joe Pasquale & Terry Alderton in
Rosencrantz and Guildenstern Are Dead
Joe Pasquale & Robert
Powell in Doctor in the House
Ever keen to try something new, Joe Pasquale took part inI
in ITV's reality show I'm a Celebrity...Get Me Out of Here in 2004. Many thought he would be voted out early, but eventually proved to be a worthy winner. Joe had to live in the jungle
jungle in Queensland's Springbrook National Park for two weeks along with 10 other celebrities, including Janet Street-Porter and fellow comedian Vic Reeves. He prepared thoroughly by going on a strict diet for several weeks beforehand, so his system would be used to the small meals doled out on the programme, and he even went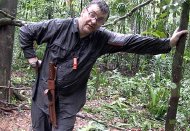 went to a psychiatrist to discover his strengths and weaknesses to help him
Joe Pasquale in the Queensland jungle
Joe in his 'coffin' with the rats!
him get along with the other celebrities. Joe said, "I absolutely loved it, it was like being in the scouts again, and it was great to be away from phone and computer for a few weeks. The worst thing was being in a coffin with forty rats
rats - I didn't enjoy that at all,but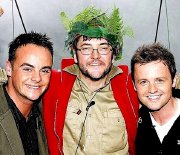 all, but you get a great three course meal at the end of it." During his time in the jungle, he became well known for his relationship
Joe Pasquale is crowned King of the Jungle
with hosts Ant and Dec
relationship with the two emus and his use of the word Jacobs, a slang term for testicles! Joe was delighted to be crowned 'King of the Jungle' at the end of the show. He donated the money he won from the jungle to the Cerebral Palsy Care Centre in Rochester, the town in Kent where he lived with his family at the time.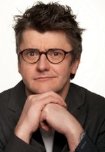 Joe Pasquale
After winning "The Jungle", Joe's popularity
popularity was sky high, and he was in great demand, with numerous TV guest appearances including The Weakest Link, The Paul O'Grady Show and Ant & Dec's Saturday Night Takeaway.

Joe on The Paul O'Grady Show
2006 saw Joe presenting ITV's weekday gameshow ThePri
The Price Is Right, famously presented by Leslie Crowther and later, Bruce Forsyth. In all, Joe recorded 176 episodes!

Joe Pasquale in Dead Long Enough
More straight acting came when Joe Pasquale took on the role of the gay Pink Faced Lieutenant in the film Dead Long Enough
Enough (2006) starring Michael Sheen. Around this time, Joe alsodid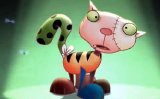 Nine the cat in Frankenstein's Cat
Joe Pasquale as Leo Bloom
In 2007 Joe Pasquale made his musical theatre debut playing the timid, nerdy accountant Leo Bloom in the UK tour of Mel Brooks' award-winning comedy The Producers, co-starring Cory English and Russ Abbott.
also did two cartoonvoiceovers - Claudius the Mouse in Garfield: A Tale of Two Kitties (2006) and the Dentist of Whoville in Horton Hears a Who! (2007). Joe's voiceover as Nine the cat in 30 episodes of the TV cartoon series Frankenstein's Cat (2008) for the BBC, helped make it a hugely successful production.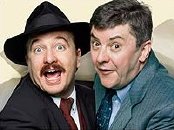 Cory English & Joe Pasquale
in The Producers
Joe remains one of Britain's top 'live' touring comedians and regularly sells out shows around the country. With his trademark 'squeaky' voice, once described as like a 'demented helium balloon', and his blend of clean, simple jokes, crazy sketches, slapstick and excruciating puns, Joe has become one of the best known and loved comedians in Britain. His recent tours include his Back on the Road stand-up tour in 2008; a 60 date UK tour in 2009; Just Joe and Extra
Extra Sensory Pasquale in 2010 and Pull My Finger in 2011.

Joe Pasquale and Ceri Dupree in
Sleeping Beauty
Joe Pasquale as Buttons in Cinderella
Joe Pasquale & Kerris Peeling in
the pantomime Peter Pan
Joe Pasquale & Ceri Dupree outside the
As an entertainer, Joe Pasquale excels in pantomime, and for 9 years he played Smee in Peter Pan alongside former-soap actor Leslie Grantham. Over the past decade he has starred in Jack and the Beanstalk (Northampton 2003 & Birmingham 2004); Peter Pan (Birmingham 2005 & Bristol 2006); Cinderella (Southend 2007) and Sleeping Beauty (Birmingham 2009, Plymouth 2010 & Nottingham 2011).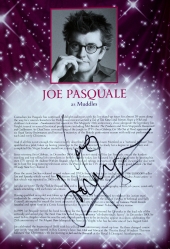 Theatre Royal in Nottingham
Joe has signed my panto programme
Outside of entertainment, Joe has overcome his fear of flying by qualifying as a pilot; has taken up boxing and has joined the Open University to study for a BSc degree in Geoscience.



Joe appeared on Celebrity Mastermind in 2009 with 'Vampires in Films' as his specialist subject and scoring 19 out of 19 on this subject. However he says he "was complete pants on general knowledge"!
Joe on Mastermind
Joe Pasquale - pilot!
Joe, one of his sisters and three daughters took part in ITV's All Star Family Fortunes in October 2011. The Pasquales took on the family of actress Jennifer Metcalf, and went on to win £10,000 for the Diabetes UK charity. This charity hada
had also received another £8,000 donation from Joe after he completed the 2011 London Marathon in 5 hours 22 minutes. Joe supports this Diabetes UK as se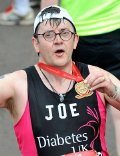 Joe completes the
London Marathon
Joe Pasquale with his sister Julie (right) and 3 of his
daughters take part in All Star Family Fortunes
as several of his close family members, including his youngest daughter, have been affected
Joe in Two Pints of Lager and a Packet of Crisps
for Comic Relief
affected by the disease.

Joe co-wrote with Alan Wightman The Big Thick Joe Pasquale Book which was published in 1996. It is a very funny book, full of stories and the jokes that have made Joe such a popular comedian.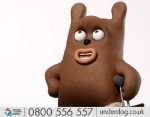 In 2011, Joe and Brian Blessed voiced a series of commercials for the National Accident Helpline.
Joe's character in the TV advert
Another photo of me with Joe Pasquale at the Theatre Royal in Nottingham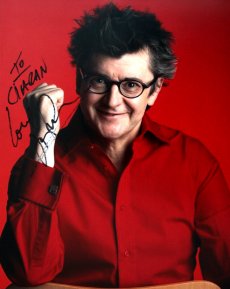 Joe has signed this photo to me

VIDEOS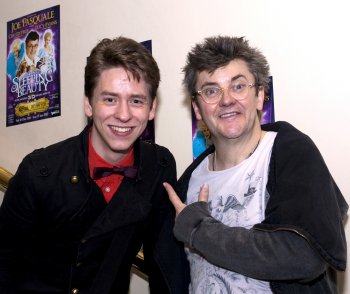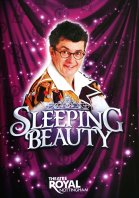 House in 2004. Joe's latest play, Doctor in the House toured the UK in 2012.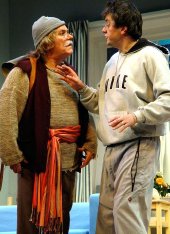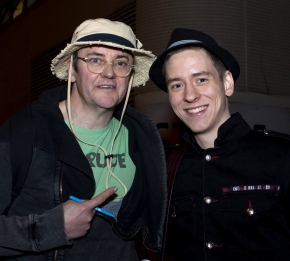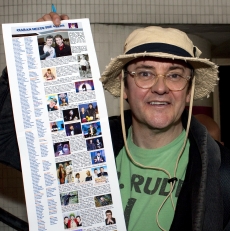 Ciaran Brown with Joe Pasquale in April 2012
In April 2012, I saw Joe as Simon Sparrow in Doctor in the House at Nottingham's Theatre Royal. I met him outside the stage door afterwards, gave him a printed copy of his webpage, and had another photo taken with him.
Joe with a copy of his webpage
Joe Pasquale married his first wife, Alison, in 1978 when he was 17, but they divorced in 1986. Two years later, Joe married his second wife Debbie, after they met at a holiday camp in Great Yarmouth. Joe and Debbie separated amicably in 2008.

From his two marriages, Joe has four daughters and a son, the actor Joe Tracini (b.1988), who is making a name for himself on TV. He has playedSpi

played Spike in 9 episodes of My Spy Family (2007-09); DK in 23 episodes of the comedy series Coming of Age (2007-11) and by the end of 2012, hadapp
had appeared in 54 episodes of the long running soap Hollyoaks. Joe Tracini's role as Dennis Savage in this, gives him great scope to show the comedy talent which he has clearly inherited from his father.

Joe Tracini