Leonard Nimoy (1931-2015)
Click on a name below to take you to that page
He signed my photo montage of characters from Star Trek: The Original Series and I had my photograph taken with him.

I met the Star Trek actor Leonard Nimoy when he was a guest at the Collectormania event which was held at the MK Dons stadium in Milton Keynes in June 2009.

Leonard Simon Nimoy was born in Boston, Massachusetts, in 1931, and brought up there in a tenement block. His father, Max, who owned a barbers shop in Boston, was a Jewish immigrant from the Ukraine. Leonard has one older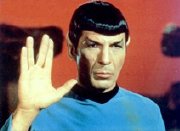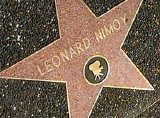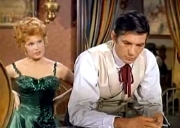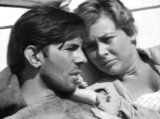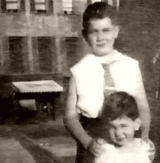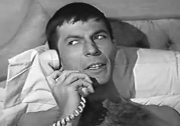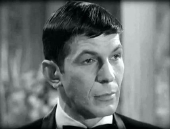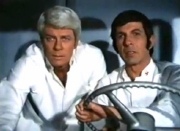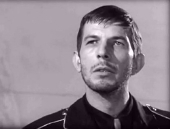 At the age of eig
brother, Melvin.
eight Leonard played Hansel in the Boston Community theatre's production of Hansel and Gretel and he remained an active member until he was 16. It was his grandfather who encouraged him to become an actor, and Leonard's first major role was in 1948, as Ralphie in an amateur productio
production of Clifford Odet's Awake and Sing. Around this time he had ac
Melvin and Leonard Nimoy
Leonard Nimoy aged about 16
Leonard Nimoy with his father
in 1946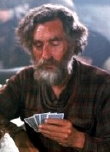 acting lessons at the Pasadena Playhouse from the character actor Jeff Corey (who later appeared with Nimoy in the 1971 film Catlow), widely reg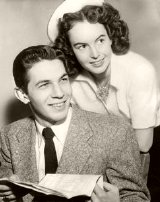 regarded as one of America's best teachers of acting. On reaching the age of 18, Nimoy left for California to pursue his career in earnest.

Jeff Corey in Catlow
After an uncredited role in the film Rhubarb (1951), Nimoy signed a $200 per week contract with Jack Broder Productions
Productions to star with Mona Knox in the boxing movie Kid Mon

Monk Baroni (1952). Nimoy regarded this film as his "big break to stardom" but, between 1953 and 1955, he served as a sergeant in the US army. Based at Fort McPhe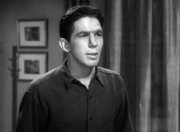 Nimoy as Roger in The Balcony
Nimoy as Jules LeFranc in Deathwatch
Nimoy as John Walking Fox in Gunsmoke
Nimoy as Judson Ellis in I, Robot
Nimoy & Nancy Hale in Sea Hunt
Peter Graves & Leonard Nimoy in
Karen Sharpe & Leonard Nimoy in
Leonard Nimoy & Joanne Pflug in Catlow
Nimoy as Gregg Sanders in The Lieutenant
Leonard Nimoy & Mona Knox with their
contract for Kid Monk Baroni
Nimoy as Baroni in Kid Monk Baroni
McPherson in Georgia, he acted with the Atlanta Theatre Guild when time allowed.
B onanza: The Ape
Resuming his acting career, the next decade consisted of steady work in a whole range of television shows. These included many long running series like Perry Mason, Sea Hunt, Wagon Train, Death Valle
Valley Days, Bonanza, Dr. Kildare, Mission: Impossible and The Untouchables.
In both film and on television, he invariably played minor characters but it was one such character, Gregg Sanders, in the short-lived military drama series The Lieutenant (1964) which
could have predicted. Nimoy caught the eye of that show's creator, Gene Roddenberry, who signed Nimoy to play Vulcan science officer Mr Spock in his new cosmic drama series Star Trek (1966-69).
which would shape Nimoy's future in a way that no-one couldh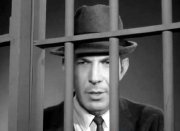 Spock became famous for his pointed ears, and also the 'Vulcan salute', a hand gesture first introduced by Nimoy in a
a 1967 episode of Star Trek, along with the words, "live long and prosper." Nimoy based it on a Jewish blessing gesture.

Star Trek ran for 79 episodes and co-starred William Shatner and DeForest Kelley. Th
Nimoy giving Mr Spock's 'Vulcan Salute'
The role of Spock made Nimoy famous but, annoyed that his iconic character had made him type-cast, he published an autobiography in 1977 called I Am Not Spock, a gentle attempt to distance himself from the character.

Leonard Nimoy as Spock in Star Trek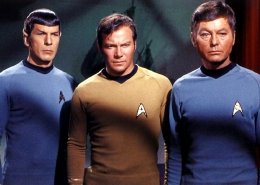 Leonard Nimoy, William Shatner & DeForest Kelley in
In 1969, Nimoy took the part of Paris in 49 episodes of the hugely successful award-winning TV crime drama Mission: Impossible (1966-73) with co-star Peter Graves.
Inevitably, public demand for more Star Trek led to Nimoy returning to Spock, initially doing voiceover on the 1973 Saturday-morning cartoon version of Star Trek.
Star Trek: The original Series
Mission: Impossible
In 1979, he was back as the pointed-eared Vulcan in Star Trek: The Motion Picture and again, three years later, in Star Trek II: The Wrath of Khan (1982). In this, the Captain Spock character was killed off, but Nimoy stayed with the franchise, as director of the next two feature-length films Star Trek III: The Search for Spock (1984) and Star Trek FOu
IV: The Voyage Home (1986) in which Spock comes back to life!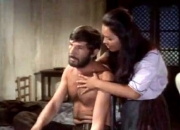 Star Trek V: The Final Frontier (1989), directed by William Shatner, and Star Trek VI: The Undiscovered Country (1991) (from a story by Nimoy) ensured that Leonard Nimoy would continue
Nimoy as Captain Spock in
The Undiscovered Country
continue to be remembered as the character Spock. Nimoy played 'old Spock' one last time in Paramount Pictures new Star Trek (2009) with Zachary Quinto in the role of 'young Spock'.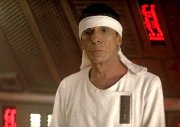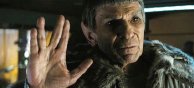 Nimoy as Old Spock in Star Trek (2009)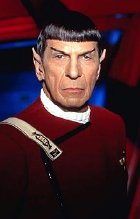 Nimoy as Captain Spock in
Star Trek IV: The Voyage Home
Nimoy credit for Invasion of the Bodysnatchers

After playing Spock in these later Star Trek films, he wrote a second autobiography in 1995 - this time calling it I Am Spock. Nimoy
Away from Star Trek, Nimoy appeared naked as Miller in the comedy western Catlow (1971) and as Dr David Kibner in the horror mystery Invasion of the Body Snatchers (1978). He directed thee
the hit comedy 3 Men and a Baby, (the highest grossing box office hit off
of 1987) along with three colossal flops - The Good Mother (1988), Funny About Love (1990) and Holy Matrimony (1994).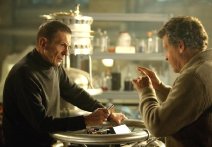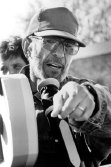 Leonard Nimoy & John Noble in Fringe
Nimoy the director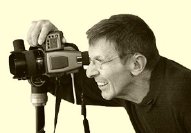 Away from acting, Nimoy has had books of photographs published, after he became keen to develop further his passion for photography in which he became interested ass
as a teenager, when he developed and printed his own black & white images of his family andf
Nimoy the photographer
and friends. Since 2003, his published books of photographs include Secret Selves, The Full Body Project, Self Portraits and Shekhina. His photographs are commercially available from Richard Michelson's gallery in Northampton, Massachusetts, and they command prices ranging from $900 to $18,000 depending on the print size!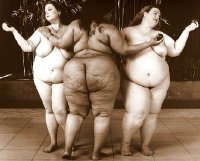 Following Nimoy's donation of $1million towards the restoration of Griffith Park Observatory in Los Angeles, a 200-seat multi-media educational venue was built there and named The Leonard Nimoy Event Horizon Theatre.
From Leonard Nimoy's book Full Body Project
Leonard Nimoy has been married twice. His first was to actress Sandra Zober in 1954, but this ended in divorce in 1987. They had two children - Julie (b. 1955, now a rabbi) and Adam (b. 1956, now a film director). In 1988, he married the actress Susan Bay.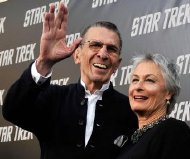 (above) with first wife Sandra Zober
(right) with second wife Susan Bay
Leonard Nimoy has a star on the Hollywood Walk of Fame. It was unveiled in January 1985, and is located outside No.6651
Leonard Nimoy has also appeared in a number of commercials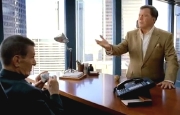 My photo-montage of characters from Star Trek: The Original Series signed by Leonard Nimoy
Leonard Nimoy & William Shatner
in a commercial for Priceline.com
Leonard Nimoy's Walk of Fame star
commercials with his Star Trek colleague William Shatner whowas


Leonard Nimoy aged about four
also has several other books to his name including two books of poems You and I and Will I Think of You? both published in 1975.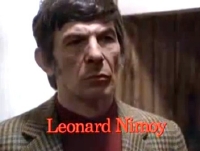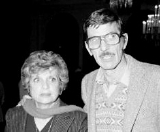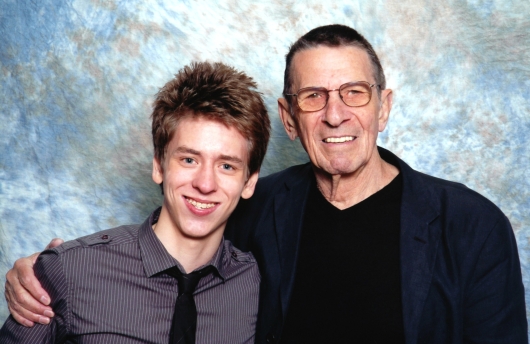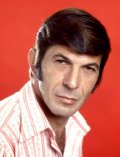 who was born just four days before Nimoy!
No.6651 Hollywood Boulevard. Leonard Nimoy died in Los Angeles on 27th February 2015.
Leonard Nimoy R.I.P.