Click on a name below to take you to that page
Ron Moody (1924-2015)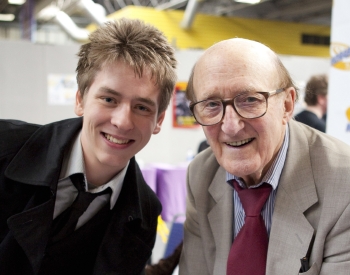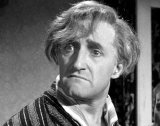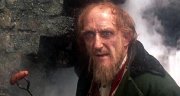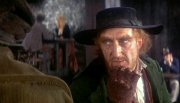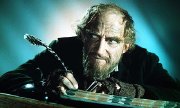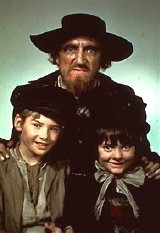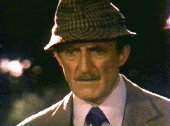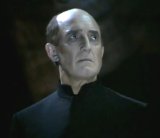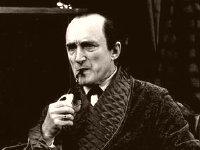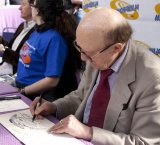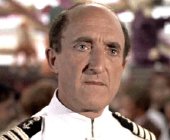 Ron Moody was born Ronald Moodnick in London in 1924. He is of Russian Jewish descent, and his surname was legally changed to 'Moody' when Ron was six years old.

I really enjoyed meeting Ron Moody at Memorabilia held at the NEC in Birmingham in March 2010. He signed a photograph for me, and asked me if I was Irish because my name is spelt the Irish way!
He also drew me a super cartoon of Fagin which he signed, and added 'Slainte Wa!' which is Gaelic for 'good health'.
After leaving school, he trained to become a sociologist at the London School of Economics, with no thoughts of a career in acting although, as he himself said, "I'd wanted to be an actor from the age of five. I was the school joker, always doing funny voices and imitations." It was only after leaving the LSE that Ron Moody realised that the many revues that he had taken part in just for fun, were what he real
His first appearance was at the New Lindsey theatre in the revue Intimacy at Eight in 1952, and began a long association with revue writer Peter Myers to whom Moody owed much of his early success. Over the next 6 years he gained a brilliant reputation in West End revues that included For Amusement Only (1956) and For Adults Only (1958). His first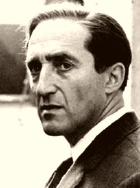 really wanted to do professionally.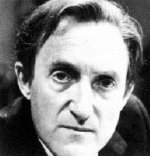 Ron Moody
Ron Moody
theatre role outside revues was in the American musical Candide (1959), which was a flop when it opened in London. It

hardly mattered, for Moody's luck was about to change forever. He was cast as Fagin in Lionel Bart's new musical Oliver! based on Dickens' novel Oliver Twist. On its opening
Ron Moody as Fagin
night at London's New Theatre (now the Noel Cowerd Theatre) in 1960, critics heaped praise on Ron Moody, whose musical numbers included 'You've Got to Pick a Pocket or Two' and 'Reviewing the Situation'. The show would eventually run for 2618 performances!
Moody left the show after two years in order to play the great eighteenth century clown Joseph Grimaldi in his own play Joey. This was performed over the Christmas season at the Bristol Old Vic in 1962. A revival at London's Saville Theatre in 1966, proved to be a disaster, with Moody threateneng to retire from the stage altogether.
Lionel Bart sold the film rights for Oliver! (1968) to Romulus Productions, and they wanted Carol Reed to direct it. As far as Reed was concerned, Moody was
Ron Moody, Mark Lester & Jack Wild
from the film Oliver!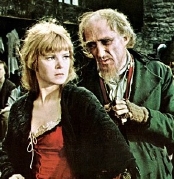 the only man to play Fagin in the film. Hollywood wanted Peter Sellers for the role, but he was unavailable so Moody wa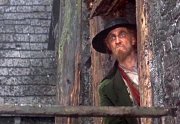 Ron Moody as Fagin in the film Oliver!
Shani Wallis & Ron Moody in Oliver!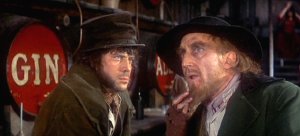 was again cast as Fagin for the film version. Romulus Productions wanted Reed's nephew, Oliver Reed, to play the part of Bill Sikes, whilst 9 year old Mark Lester was chosen from 250 child actors who auditioned for the part of Oliver. The film's huge success brought it five Oscars including 'Best Film

Film'.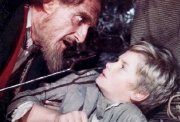 Ron Moody & Mark Lester in Oliver!
Oliver Reed (Bill Sikes) & Ron Moody (Fagin) in Oliver!
Moody himself was nominated for a Best Actor Oscar. He also won a Golden Globe for the role. Fagin was to become Ron Moody's lasting claim to fame, playing the role again in a short-lived Broadway revival in 1986. and
Ron Moody sketching my cartoon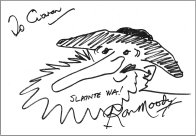 Ron Moody drew this cartoon of Fagin for me
Ron Moody as Hopkirk in The Avengers
Moody as Stafford in Starsky and Hutch
Ron Moody was seen frequently in, mostly small, TV roles throughout the 1960s & 70s
70s including two episodes of The Avengers (1966 & 1967); an episode of Starsky and Hutch (1976) and four episodes of Midnight is a Place (1977).
One notable success was his portrayal of the obsequious Uriah Heep in a TV version of Charles Dickens' David Copperfield (1969).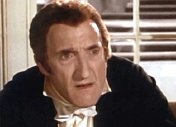 In the 1980s Moody played DI Roger Hart in eight episodes of Nobody's Perfect (1980); the imp
Ron Moody as Uriah Heep in
Moody as Rothgo in Into the Labyrinth
imprisoned sorcerer Rothgo in fourteen episodes of the fantasy
David Copperfield
Into the Labyrinth (1981) and DS Albert Adams in five episodes of Hideaway (1986).

In the 39-episodes of The Animals of Farthing Wood (broadcast 1993-95), Ron Moody was the voice of Toad in this highly popular animated TV fantasy series. He has also had roles in the popul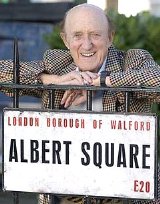 popular British soaps EastEnders, The Bill and Casualty.

The Animals of Farthing Wood
Ron Moody had a role in EastEnders

One TV role that Ron Moody did turn down however, was that of the third Doctor in Doctor Who when it was offered to him after the departure of Patrick Troughton. He later described it as "the worst decision he ever made."

As Cosgood in Murder Most Foul
Ron Moody as King Awad in
Ron Moody as Dr Rogers in Dominique
Wrong is Right
On the big screen, Ron Moody played French mime artist The Great Orlando in the Cliff Richard film Summer Holiday (1963); H Driffold Cosgood in Agatha Christie's Murder Most Foul (1965); Steps in Dogpound Shuffle (1975); Doctor Rogers in the ho
horror thriller Dominique (1978) and King Awad in Wrong is Right (1982).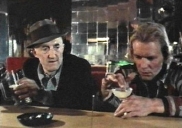 A rare starring role came Ron Moody's way in the Mel Brooks comedy The Twelve Chairs (1970) in which he plays a Tsarist nobl
nobleman Voribyaninov, whose mother-in-law hid her jewels in one of a set of twelve chairs, before they were taken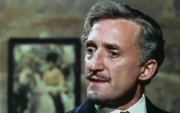 taken by the government to
to be given to deserving members of the proletariat. A hilarious hunt for this special chair ensues! More recently, he
Ron Moody & David Soul in
Dogpound Shuffle
he also had the starring role of Izzie Goldberg in the Jewish comedy Paradise Grove (2005) with Rula Lenska.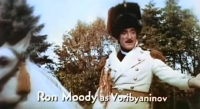 Ron Moody as Voribyaninov in
The Twelve Chairs
Opening credit for The Twelve Chairs
Oliver! was far and away Ron Moody's greatest stage triumph, completely overshadowing the other stage music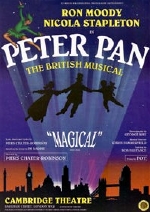 musicals with which he has been involved. These have included Aristophanes in the musical Liz (1968) at the Marlowe Theatre, Canterbury, and the title role
He has also appeared at various London theatres as Mr Darling/Captain Hook in Pe
in Sherlock Holmes:The Musical at the Cambridge Theatre, London in 1989. Neither could be considered a success and they did little for Moody's reputation.

Ron Moody in Sherlock Holmes: The Musical
Theatre poster for Peter Pan at the
Cambridge Theatre in London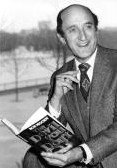 In addition to writing stage plays and libretti for musicals, Ron Moody also has four published novels to his name. The first of these was The Devil You Don't (1980) followed by Very Very Slightly Imperfect (1983), The Soul of Leonardo (1991) and The Amazon Box (1994). He has also written a book on after dinner speeches called Off the Cuff (1987).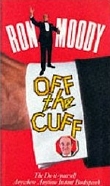 the musical Peter Pan - in 1968 (Scala Theatre), 1972 (Coliseum Theatre), 1975 (Palladium Theatre), 1977 (Casino Theatre) and 1994 (Cambridge Theatre).
Ron Moody married yoga instructor Therese Blackbourn in 1985, and they have six children.
Ron Moody with his novel
The Devil You Don't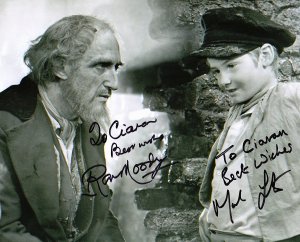 VIDEO

Ron Moody & Mark Lester have both signed this Oliver! photo to me
Ron Moody passed away on 11th June 2015.