Paul McGann was born in Liverpool in 1959, the 2nd eldest of four brothers - the other three, Joe, Mark and Stephen are also well-known actors. They also have a sister, Clare.
The four brothers formed a rock group called 'The McGanns' and released a single Shame About the Boy in September 1983.
Paul McGann trained at RADA, and has acted almost continually since leaving there in 1981. He appeared as John the Baptist in Godspell at the Nottingham Playhouse in 1981, and co-starred with his three brothers in the West End musical review Yakety Yak in 1982.
Early TV appearances were in Give Us a Break (1983), where Paul plays a yob who is an ace snooker player (with his true 'scouse' accent!) and The Importance of Being Earnest (1986) p
Other film roles around this time included Tony Dalton in Afraid of the Dark (1991), army officer Skrebensky in th
More recent occasions that Paul McGann has been seen on the big screen include the films The Queen of the Damned (2002); the Dogme film Gypo (2005); Poppies (2006) and Always Crashing the Same Car (2007), where he teams up again with Richard E Grant.
The following year came McGann's first film appearance, as Peter Marwood in the British cult comedy Withnail and I (1987)
Paul met Annie Milner when he was in Shakespeare's Much Ado About Nothing at Basingstoke, and she was the assistant stage manager. They married in 1992, have two sons, Joe (b.1989) and Jake
Paul McGann has a fine voice for audio book narration and has done audio versions of some of Cornwell's Sharpe novels and also some Doctor Who adventures.

The excellent three-part adaptation for TV of Robert Loui
A favourite Paul McGann series for many TV viewers was the four Hornblower productions (2001 & 2003), based on the books by C S Forester. Paul McGann played Lieutenant Bush, along with a cast of well-known British actors that included Ioan Gruffudd and Robert Lindsay.
Paul McGann's later TV roles have been quite varied - an adaptation of Charles Dickens' last novel Our Mutual Friend

The following year Paul landed the role of the eighth inc
That same year, The Hanging Gale (1995) saw all four McGann brothers appearing together for the first time since Yakety Yak in 1982. They played the Phelan brothers struggling to save their farm, and their family, from the ravages of the Irish potato famine in 1846.
Much of Paul McGann's work during the 1990s has been in various TV productions. In 1993 he was cast as Sharpe in the series based on Bernard Cornwell's novels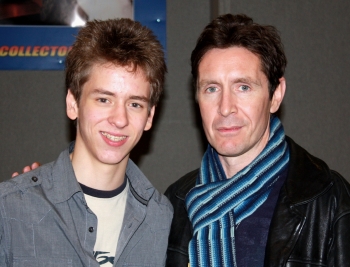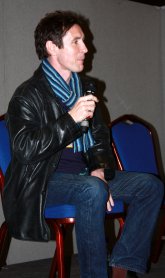 I was really looking forward to meeting Paul McGann at Collectormania held at Coventry in November 2008. He was so friendly and easy to talk to. He signed a photo, a Masterprint from Alien 3 and two Doctor Who items for me.
He also gave a talk about his acting career and answered questions put to him by the audience.
1996 was the year that saw London Weekend Television produce The One That Got Away. This was based on the true story of Corporal Chris Ryan (Paul McGann), the only soldier from the SAS patr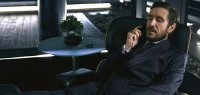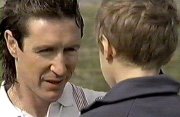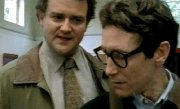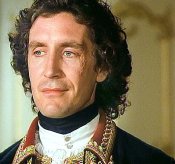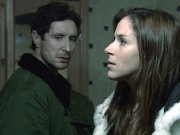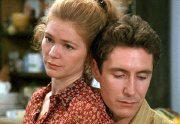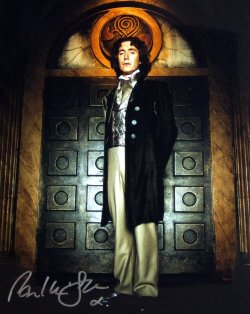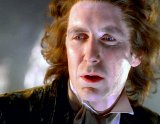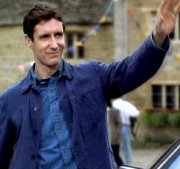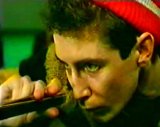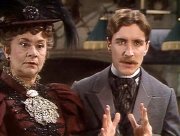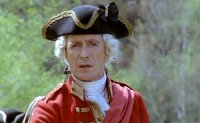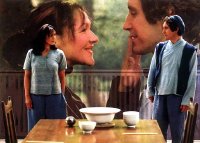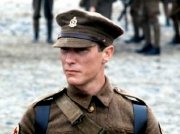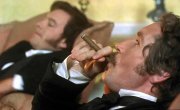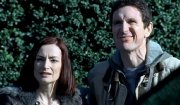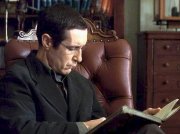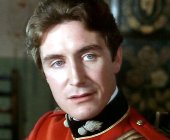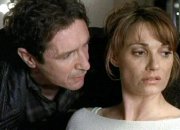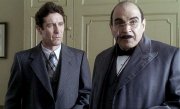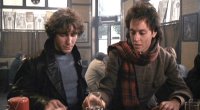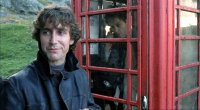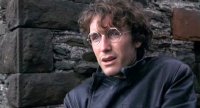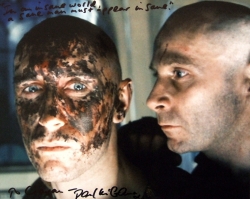 playing the lead role of John Worthing in the adaptation of Oscar Wilde's comedy. However, it was as the famous British deserter and criminal, Percy Toplis, in

the BBC TV 4-part series The Monocled Mutineer (1986) that he gained a wider public recognition.

Paul McGann in 1986
Paul McGann as Mo Morris in
Give us a Break
Joan Plowright & Paul McGann in
Paul McGann as The Monocled Mutineer
The Importance of Being Earnest
alongside Richard E Grant.


Paul McGann and Clare Holman in
Afraid of the Dark
2 roles in The Three Musketeers
Paul McGann & Richard E Grant in Withnail and I
Paul McGann & Richard E Grant in Withnail and I
Paul McGann as Peter Marwood in Withnail and I
It shows him as Golic, with Danny Webb
As Anton Skrebensky in the
The Rainbow
Ken Russel's adaptation of D H Lawrence's The Rainbow (1989), Golic in Alien 3 (1992) (where most of Paul's scenes were cut from the final print) and the dual roles of Girard and Jussac in The Three Musketeers (1993).

Paul McGann answering questions from
his audience at Collectormania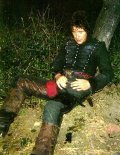 Paul filming Sharpe's Rifles
before his injury
novels. During filming of the first story Sharpe's Rifles, McGann was injured playing football. His role was taken over by Sean Bean who went on to make another thirteen more Sharpe!
Paul McGann signed this photo to me from Alien 3
Paul added one of his film quotes as well
In 1995, McGann played Potemkin in Catherine the Great, alongside a star studded cast that included not only his brothers Mark and Stephen, but the likes of Catherine Zeta-Jones, Ian Richardson, Brian Blessed, John Rhys-Davies and Omar Sharif.
Paul McGann as Liam Phelan in
The Hanging Gale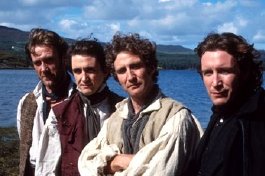 Joe, Stephen, Mark & Paul McGann in The Hanging Gale
Paul as Potemkin in Catherine the Great
Paul signed this Doctor Who: The Movie photo for me
incarnation of Doctor Who for the big-budget American production of Doctor Who: The Movie (1996). This was produced jointly by the BBC, Universal and Fox Studios, with th
the expectation of a long running TV series. Although it was popular in Britain, American audiences were low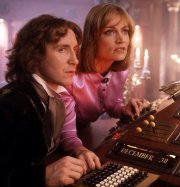 and the projected series was

dropped. It was to be another nine years before Doctor Who returned, with Christopher Eccleston in the role.

Paul McGann as the eighth Doctor Who
Paul McGann and Daphne Ashbrook in
Doctor Who: The Movie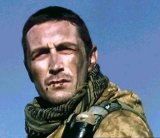 patrol Bravo Two Zero to escape after attempting to destroy Scud missiles trained against Israel during the first Iraq war.

McGann in The One That Got Away
Around this time Paul appeared in a couple of Agatha Christie stories - Sad Cypress in 2003 and Sleeping Murder in 2006.

(1998); the crime thriller Forgotten (1999); the BAFTA-nominated Nature Boy (2000) and The Biographer (2002) in which he plays Andrew Morton, Princess Diana's biographer.

Paul McGann in Our Mutual Friend
Paul McGann in Nature Boy
Hugh Bonneville and Paul McGann in
The Biographer
Paul McGann as Ben Turner in Forgotten

Paul McGann in Lie With Me
adaptation of D H Lawrence's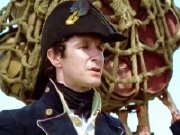 Paul McGann as Lieutenent Bush in
Hornblower: Mutiny

Paul McGann in Sleeping Murder
Paul McGann as Colonel MacNab in Kidnapped
Louis Stevenson's Kidnapped (2005) saw Paul McGann playing the role of the ruthless English villlain Colonel MacNab.
Paul McGann and David Suchet in
Agatha Christie's Sad Cypress
Paul McGann & Pooky Quesnel in
included the thrillers Lie With Me (2004) and If I Had You (2006) also the six-part mystery series with Pooky Quesnel and Dervla Kirwan True Dare Kiss (2007).
Other recent
TV appearances have
Paul McGann & Sarah Parish in If I had You
True Dare Kiss

Paul McGann in Poppies
A curiosity was Kenneth Branagh's 2-character short film Listening (2003), with very little dialogue between the two characters played by Paul McGann and Frances Barber.


Frances Barber and Paul McGann in Listening
Paul McGann and Chloe Sirene in Gypo
Doctor Who audio book
Paul McGann in Always Crashing the Same Car
Paul McGann in Queen of the Damned
It has been said that Paul McGann doesn't like performing in front of live audiences and hates doing theatre, so that may account for him only having been
1998 he played the psychiatrist Jung in Sabina at the Bush Theatre. In 2003, he was in two plays - Little Black Book with Susannah Harker at the Riverside Studios, and Mourning Becomes Elektra with Helen Mirren on the Lyttleton stage at the National Theatre. Another stage appearance was in The Gigli Concert in 2005 at the Finborough, a tiny theatre above a pub in Earl's Court.

seen on the theatrical stage in just
four plays at different London theatres during the last 20 years. In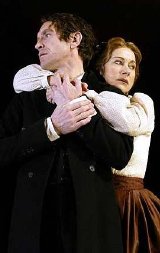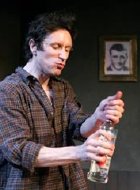 Paul McGann & Helen Mirren in
Mourning Becomes Elektra
Paul McGann in The Gigli Concert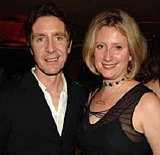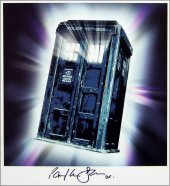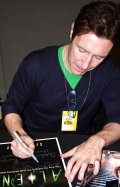 Paul McGann
Click on a name below to take you to that page
In April 2010, Paul appeared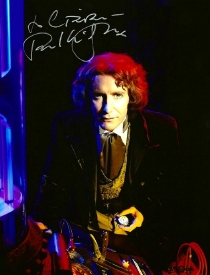 In August 2011, I saw Paul in the West End revival of the comedy Butley at the Duchess Theatre, also starring Dominic West in the title role. Afterwards Paul signed my programme and I had another photo with him at the stage door.

Court.
Paul McGann in Butley
Paul McGann in The Judas Tree
appeared as Hugo Dore in a TV episode of Jonathan Creek called The Judas Tree, with Alan Davies and Ian McNeice. This was followed by eight episodes ofthe
of the excellent police drama Luther (2010-11) in which he played the character Mark North.
In Waterloo (2011), the final episode in Series 9 of the long-running 'cold case' police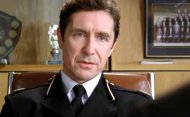 Paul McGann in New Tricks
Coincidentally, his next TV role, as DCI James Larsen, came in Object of Desire (2011) an episode of another long-running 'cold case' police drama New Tricks.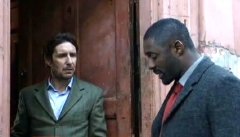 Paul McGann has also been much in demand for voice-over work in Britain in recent years, particularly for television commercials and documentaries.
documentaries.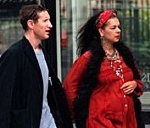 Paul McGann with his wife Annie
Paul McGann with Susannah Harker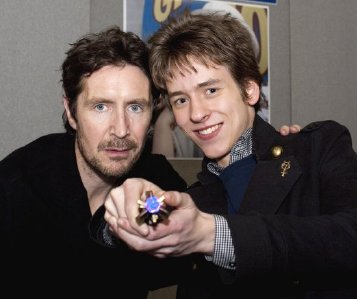 Jake (b.1991) but have since separated. In 2006, Paul was romantically linked to actress Susannah Harker whom he met during the theatre run of Little Black Book. They also appeared together in the film Always Crashing in the Same Car (2007). They parted company at the end of 2008
Waking the Dead
Paul McGann as ACC Tony Nicolson in
Paul McGann & Idris Elba in Luther
I was delighted to meet Paul again in November 2010, this time at Collectormania London held at Olympia. It was the end of the afternooon and dad and I were able to chat with him for about twenty minutes, mostly about acting.
This photo with Paul was taken at Olympia in 2010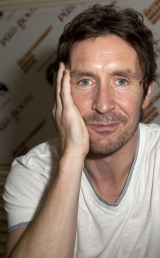 I took this photo of Paul at the
Entertainment Media Show in 2011
I met him yet again in October 2011 at the Entertainment Media Show at Earl's Court, where I was taking photographs of the guests for the show's organisers.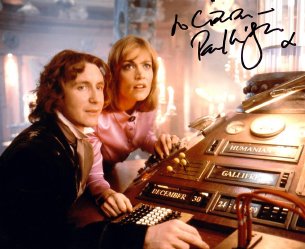 Signed photo from Withnail and I
Paul McGann signing my
Alien masterprint in 2008
(above & right) Signed photos from Doctor Who: The Movie
With Paul at the Duchess Theatre stage door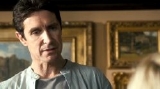 police drama Waking the Dead (2000-2011),MPaul McGann guest stars as a senior-ranked 'bent cop', ACC Tony Nicholson.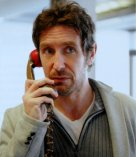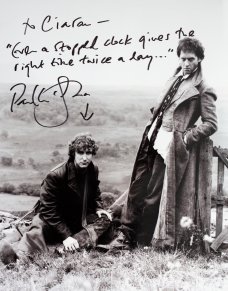 TARDIS print signed by Paul McGann