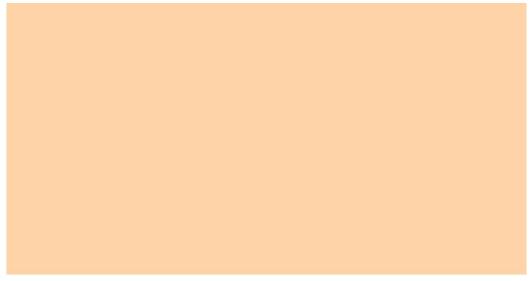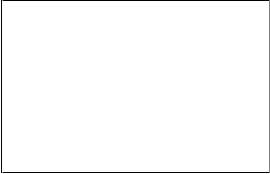 Alexei Leonov (1934-2019)
Click on a name below to take you to that page
Dave Scott & Alexei Leonov signed my copy of Two Sides of the Moon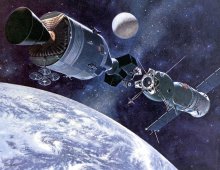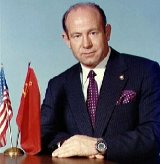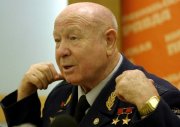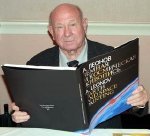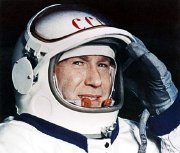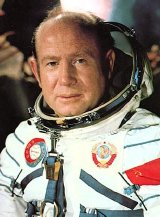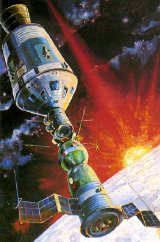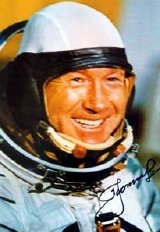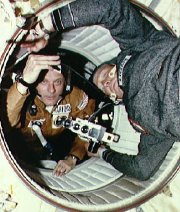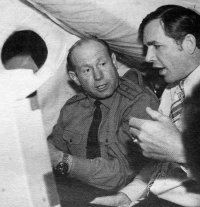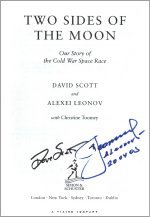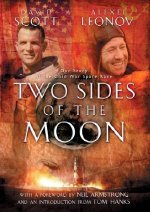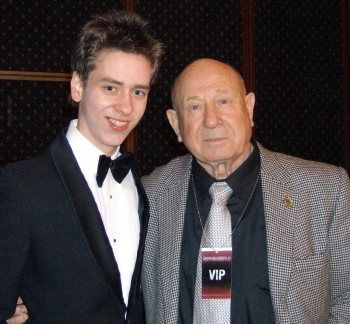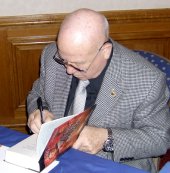 I met the great Soviet cosmonaut Alexei Leonov (the first man to walk in space) at the Autographica event held at the Birmingham Hilton in April 2008.
He signed a photograph for me, and also my copy of his book Two Sides of the Moon.

Alexei Leonov signing my copy of
Two Sides of the Moon
Alexei Leonov was born in 1934 at Listvyanka in Siberia, Russia. He attended the Academy of Arts in Riga and then on to a preparatory school for pilots in Kremenchug. Aged 21, he trained at the Chuguyev Higher Air Force School from where graduated with an honors diploma as a pilot in 1957. Leon

Leonov was one of the twenty air force pilots selected in 1960 to become part of the first cosmonaut group to fly in the planned Vostok programme which put the first man (Yuri Gagarin) in space in 1961.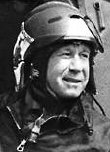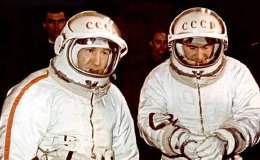 Leonov was selected to undertake the first-ever spacewalk in Vostok 11, but with the cancellation of the last seven Vostok missions, his spacewalk became part of the 'Voskh
Alexei Leonov
'Voskhod' programme. These flights were clearly aimed at providing Russian 'firsts' in space exploration, and were achieved with some disregard to safety!

Voskhod-2 cosmonauts Alexei Leonov & Pavel Belyayev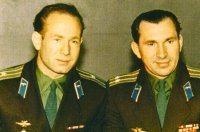 Alexei Leonov & Pavel Belyayev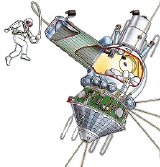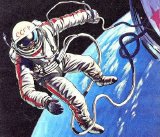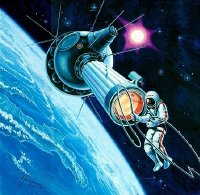 Alexei Leonov, aboard Voskhod 2 became the first man to "walk" in space on March 18, 1965, when he floated for 12
12 minutes and 9 seconds outside the spacecraft to which he was tethered by a 5.35 metre safety line. He pushed away from the craft and drifted more than 5 metres away before reeling himself back in.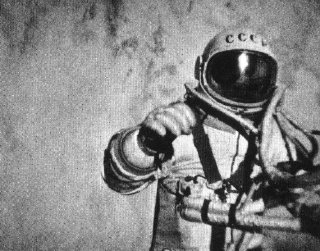 camera attached to his spacecraft Voskhod 2
Still of Leonov's historic spacewalk taken from the external movie
Alexei Leonov's own painting of his spacewalk
There were tense moments when Leonov found that his spacesuit had inflated in the vacuum of space and he couldn't re-enter the airlock. He had to bleed air out of his suit to be able to squeeze back into the spacecraft. Leonov had spent nearly eighteen months undergoing weightlessness training before taking part in this mission. Later, a rocket malfunction forced Leonov and his crewmate Pavel Belyayev to land in mountains and deep snow, with wolves growling and scratching at Voskh
Soviet stamps from 1977 commemorating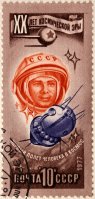 space pioneers Leonov & Gagarin
Voskhod's partly open hatch! The crew spent two nights in the wild before they were eventually rescued! (The nightmare of Voskhod 2 was told by Leonov
here
).
This should have been the start of several more missions for Leonov, but for various reasons none went ahead.
In 1968, he was chosen to command a Soyuz spacecraft flight around the Moon, but previous unmanned test flights had failed and the Americans ac
achieved this 'first' in December 1968 with Apollo 8. Leonov
was also selected to be the first Soviet person to land on the Moon, aboard the Soyuz LOK spacecraft, but that was cancelled.

Leonov's space walk
Alexei Leonov before his space walk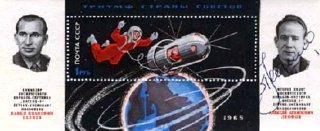 Soviet stamp commemorating Belyayev and Leonov's space flight
In 1971, Leonov was to have been commander of the ill-fated Soyuz 11 mission to the manned space station Salyut 1, which killed all three cosmonauts on board. The back-up crew went instead because Kubasov from the original crew was thought to have TB.



Leonov's second trip into space was another very significant one - as commander of the Russian side of the Apollo-Soyuz Test Project. This was the first joint space mission, and took place in July 1975 during a short easing of tension in the 'Cold War'. American President Richard Nixon and Soviet Premier Leonid Bre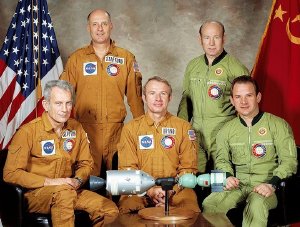 Brezhnev wanted to prove that the United States and the Soviet Union could cooperate in space.
Alexei Leonov and Valeri Kubasov in Soyuz 19 docked with the Apollo spacec
& Valeri Kubasov
(L - R) Deke Slayton, Tom Stafford, Vance Brand, Alexei Leonov
The crews of the Apollo-Soyuz Test Project
Davis Meltzer's painting of the Apollo-Soyuz docking
spacecraft carrying its three-man crew of Tom Stafford, Deke Slayton and Vance Brand. This event successfully tested a rendezvous & universal docking system.

However, a worsening of the Soviet - American détente soon afterwards meant that it would be the last such docking for 20 years. Click
here
for an excellent account of the time when the American & Russian spacemen met, and shook hands for the first time. Following the Apollo-Soyuz Test Project, Leonov was promoted to the rank of Major General.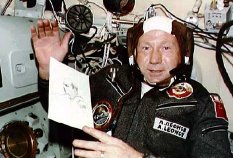 Alexei Leonov with his sketch of Tom Stafford
Major General Leonov
Apollo-Soyus rendezvous in space
Apart from the near-misses as a cosmoinaut, Leonov has escaped death on several other occasions. He survived when his car skidded and plunged into a deep ice-covered lake, heroically pulling his wife and the driver to safety. He also survived a 1969 assasination attempt on Premier Leonid Brezhnev when their car was showered in with bullets. The
driver was killed, but Leonov managed to survive the shooting by crouching behind the seat.
Alexei Leonov in 1975
Alexei Leonov in his spacesuit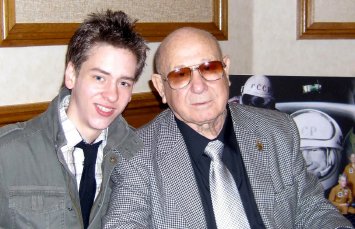 Ciaran Brown with Alexei Leonov at Autographica in Birmingham in April 2008
From 1976 to 1982, Leonov was the deputy director of the Yuri Gagarin Cosmonaut Training Center at Star City (a military research and training facility near Moscow) where he oversaw crew training.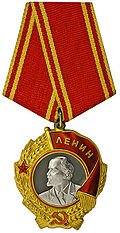 For his work in space, Alexei Leonov was awarded the 'Hero of the Soviet Union' twice, as well as the 'Order of Lenin', the highest civil decoration in Russia.
After serving as a cosmonaut, he became an investment banker, later becoming a vice president of Moscow's Alfa Bank.

Order of Lenin
Alexei Leonov signed photograph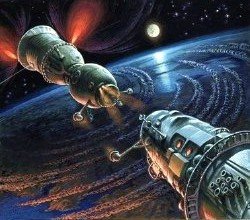 Leonov is a gifted, self-taught artist. He has painted everything from Russian churches to Siberian snow scenes and, of coursee
course, space art based on coloured sketches done aboard his two flights. He is widely
widely regarded as one of the best known space artists in the world, and his creations have been published in many books including his own volume called Earth and Space Painting.
Leonov with Earth & Space Painting
One of Alexei Leonov's paintings showing Soyuz docking
with the Salut space station
An unusual 'joint autobiography' Two Sides of the Moon was published in 2004. It is a brilliant book about the 'space race' between America and the Soviet Union, as seen through the eyes of both Dave Scott (commander of Apollo 15) and Alexei Leonov. They write about their highs and lows, their great achievements, their disappointments and their sadness at lives lost. Scott and Leonov alternate chapters throughout this amazingly written book.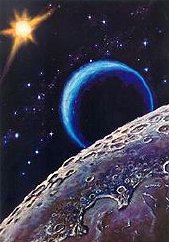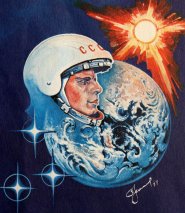 Leonov - 'Apollo-Soyuz docking'
Leonov - 'Yuri Gagarin'
Leonov - 'Near the Moon'
Alexei Leonov's Space Art
Alexei Leonov and Dave Scott in the Soyuz
simulator Star City in 1973
Leonov's wife Svetlana is a teacher, and they have two daughters, Viktoria and Oksana.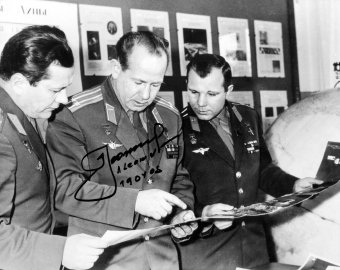 (video)

Alexei Leonov
Leonov's statue
in Moscow

VIDEOS
Alexei Leonov signed this photograph for me when I met him at Autographica
It shows him with Pavel Belyayev and Yuri Gagarin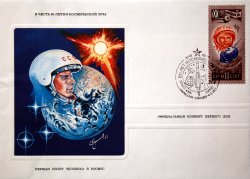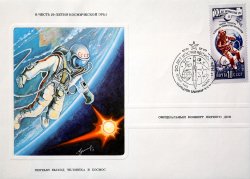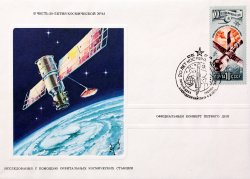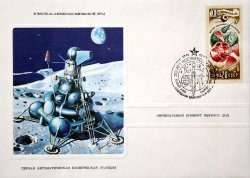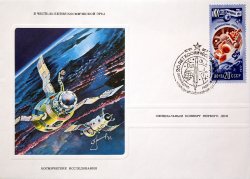 My set of USSR Official First Day Covers commemorating the 20th Anniversary of the Space Age. These stamps are all postmarked 4th October 1997, and the envelopes each show one of Alexei Leonov's paintings specially done by him to honour the 20th anniversary of the launching of the first sputnik.
Man's first space flight by Yuri Gagarin
The first space walk by Alexei Leonov
Research by orbital space stations
First automatic space station
Interplanetary space research
International cooperation in space
Vokshod 2 diagram
Alexei Leonov died on 11th October 2019.