Kenneth George "Kenny" Baker was born in Birmingham in 1934. He overcame his height difficulties by attending the Shaftesbury Society in London, a Christian group which cares for young people with disabilities.

Despite being only 3ft 8inches tall, he has become a much-loved star, both in the UK and throughout the world. Kenny started performing in 1950 at the age of 16 when he joined the Burton Lester's Midgets as a performer. After that he was a DJ for a short while with the Mecca Organization before joining Billy Smart's Circus as a clown. Later, he toured the country for 9 years doing panto (he was much in demand for Snow White & the Seven Dwarfs!) and ice shows, where he met the queen.
R2-D2 was so named when Star Wars producer George Lucas was asked by a technician for 'Reel number 2, Dialogue track number 2'. Hal Erickson in his All Movie Guide wrote, "Once jammed into his robot costume, Kenny was unable to move about and had to rely on sophisticated remote controls - and when those didn't work, he had to be pulled around on ropes. Additionally, the noisemaking computer controls on the R2D2 shell were so loud that Baker didn't know if a take was over unless someone banged on the costume with a hammer!"


Kenny has also appeared in many films outside of Star Wars, and these include Flash Gordon (1980), The Elephant Man (1980), Time Bandits (1981), Amadeus (1984), Mona Lisa (1986) and the Jim Henson film Labyrinth (1986).
Although Kenny is credited in all 6 Star Wars films, he never filmed any of the scenes in Star Wars Episode III: Revenge of the Sith (2005), George Lucas adding him to the credits out of loyalty. Baker even played an additional role in Return of the Jedi as Paploo, the Ewok who stole an Imperial speeder bike. He was originally going to play Wicket, but he fell ill, and that role was given to Warwick Davis.

Kenny Baker has worked with many comedians over the years, including Little and Large, Russ Abbot, Ben Elton, Dick Emery & Dave Allen, and as a 'Diddyman' for Ken Dodd. He is an accomplished player of the harmonica!

In 1978, Kenny put his footprints as R2-D2 into concrete outside Grauman's Chinese Theatre in Hollywood, alongside many of the legendary names from the world of film.
Kenny was married to Eileen (who played an Ewok in Return of the Jedi) from 1970 until her death in 1993. They had two children, neither of whom inherited their parents dwarfism. He lived in Preston with Valerie Gale, who had small roles in Willow (1988) and Elizabeth (1998).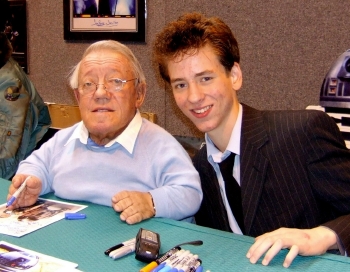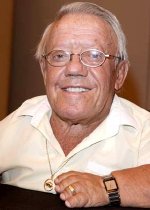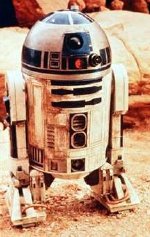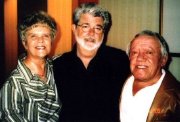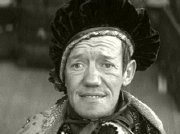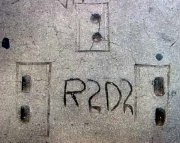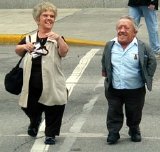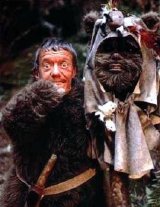 After leaving the ice, he formed a musical comedy act called The Mini Tones with his friend Jack Purvis, who also had small roles in three of the Star War films. They acted together in night clubs & theatres, only disbanding when Purvis died in 1997.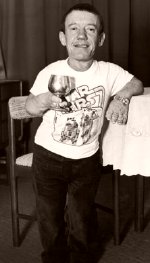 In 1977 he had his big break when George Lucas hired him to be the man inside the loveable, bleep-bleeping android, R2-D2, in the first Star Wars film.
A Japanese R2-D2 wind-up action figure was one of George Lucas's favorite toys and Lucas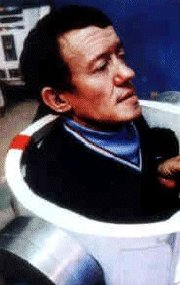 Lucasfilms itself ordered thousands of them for their employees.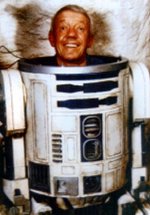 Kenny Baker's TV appearances include the pickpocket in The

Hunchback of Notre Dame (1982) and Dufflepud in The Voyage of the Dawn Treader (1989).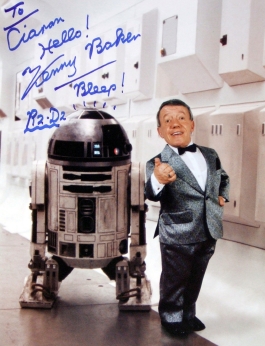 Kenny Baker signed this photo for me showing him with R2-D2
Valerie Gale & Kenny Baker
his famous character from Star Wars
in America
Kenny Baker in 1980
Kenny's friend Jack Purvis
R2-D2 from Star Wars
Kenny with his Paploo costume
Kenny Baker in his R2-D2 costume
Kenny Baker in his R2-D2 costume
Kenny Baker
Kenny Baker as Fidgit in Time Bandits
Kenny Baker as the Plumed Dwarf in
The Elephant Man
Valerie Gale, George Lucas & Kenny Baker
R2-D2's footprints in concrete outside
Grauman's Chinese Theatre in Hollywood
I first met Kenny Baker at Coventry in 2004, and then again at the NEC in Birmingham in November 2007. He signed a lovely photograph for me and I was able to have my photo taken with him. You can just see part of his R2-D2 costume in the background.



Kenny Baker (1934-2016)
Click on a name below to take you to that page
Kenny Baker died on 13th August 2016, just eleven days before his 82nd birthday, following a long illness.