the National Theatre. More West End roles followed - Frederick Fellowes in Michael Frayn's 'play within a play' Noises Off (2008) at The Ambassadors Theatre, Gabriel York in When the Rain Stops Falling (2009) at the Almeida Theatre and Mak Kellerman in Dirty Dancing (2010-11) at the Aldwych Theatre. In this, he had sing




Click on a name below to take you to that page
Richard Hope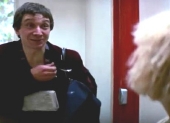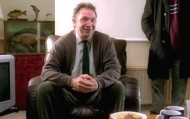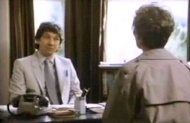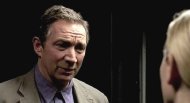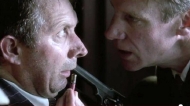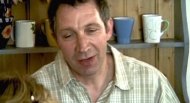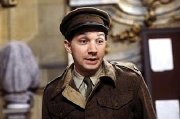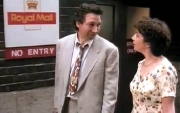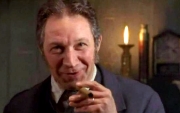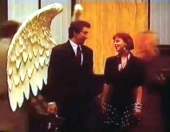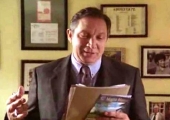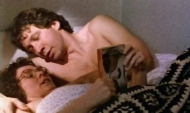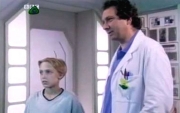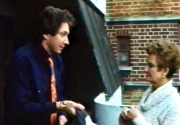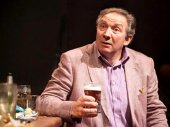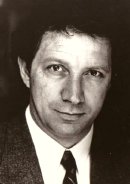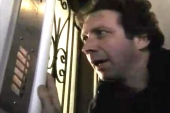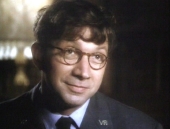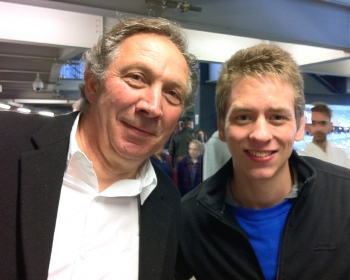 I met Richard Hope at the Collectormania event held in June 2012, at the MK Dons stadium in Milton Keynes.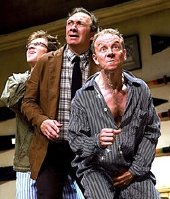 Richard Hope in Bloody Kids
Breaking Glass (1980)
December Flower (1987)
Bellman and True (1987)
Brideshead Revisited (1981)
Piece of Cake (1988)
Bramwell (1997)
Children of the New Forest (1998)
With Maureen Beattie in The Last Post
Antonia and Jane (1990)
With Rosalind Knight in Swords at Teatime
New Tricks (2005)
Silent Witness (2005)
My Brother Tom (2001)
Tipping the Velvet (2002)
The Bill (2001)
The Bill (2007)
Midsomer Murders (2007)
Richard Hope as Russell in The Swan
Democracy 2012
Richard Hope (centre) in Donkey's Years
A Perfect State (1997)
Richard Hope is one of of those character actors whose face you know from countless films and TV programmes. Sometimes it may be hard to put the name to the face, but a look
I was crewing for this event, as was my dad who was lucky enough to be Richard's 'guest assistant' for the day.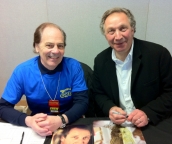 look down his very lengthy list of credits on IMDb will reveal roles in some of the memorable shows and series of the past 35 years.

My dad & Richard Hope at Collectormania
Richard Walker (Hope is his professional name) was born in Kettering, Northants, but raised in Norfolk. He attended Oakham School (an Independent school dating back to the 16th Century) from

Always interested in acting, he was a member of the National Youth Theatre from 1972-1976, where he trained with the likes of Ken Campbell, Richard Wilson and Jack Shepherd. In 1975, Richard appeared on TV as a 'Security Official' in a BBC Play
from 1967 until 1971.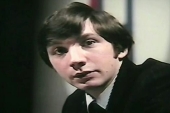 Richard Hope in By Common Consent
Richard Hope
Richard's days at The National theatre brought him into contact with Sir Laurence Olivier who provided him with an early TV role in Saturday, Sunday, Monday (1978) alongside Olivier himself, and the likes of Frank Finlay, John Duttine, Joan Plowright and Edward Woodward. For a year, Olivier mentored Richard, who says of him, "A really, really kind man, he was just a charming person. He said 'Just work with good people - you'll always look better if you're working with people who will push you a little bit more'. I have and I've quietly slipped into people's consciousness ever since."

Youth Theatre by Paul Thompson.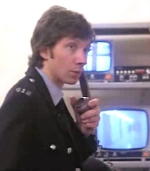 Included here are images of some of the roles he has played on film and TV over three decades.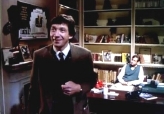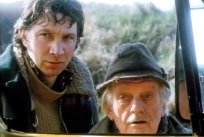 Hover mouse over each image for more details
Scandalous (1984)
Singleton's Pluck (1985)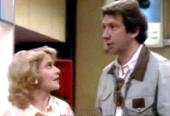 The Victoria Wood Show (1989)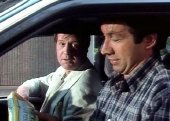 Frederick Forsyth Presents (1989)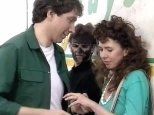 Itch (1991)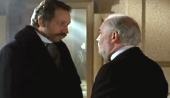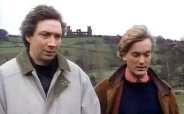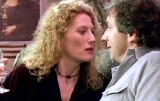 The Sea Change (1998)
Band of Gold (1997)
Peak Practice (1995)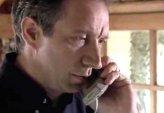 In Deep (2001)
The Demon Headmaster (1998)
Judge John Deed (2001)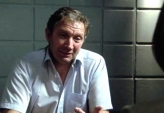 Murder City (2004)
Foyle's War (2003)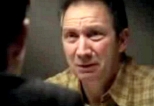 Murder in Suburbia (2004)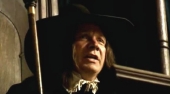 The Trial of the King Killers (2005)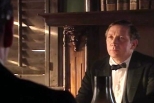 The Wild West (2006)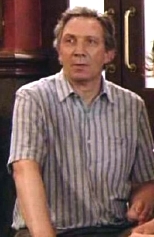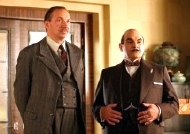 Agatha Christie's Poirot (2006)
East Enders (2008)
East Enders (2008)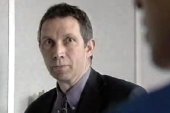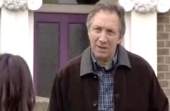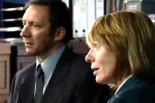 In 2012, Richard appeared as Doctor Malohkeh in an episode of the TV series Doctor Who entitled Cold Blood. This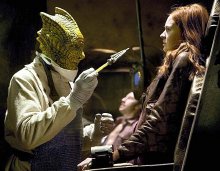 This was a two-part story that featured the return of the Silurians, a technologically advanced species of 'Earth reptile' with lizard-like heads. Malohkeh was the chief scientist of a Silurian colony that lived deep below a Welsh village. Richard Hope's Silurian character (then spelt Malokeh) first appeared in the episode
The Wedding of River Song
(2011), when he was physician to Holy Roman Emperor Winston Churchill (played by
Ian McNeice
). Richard's prosthetic Silurian head comes in three sections and required three and a half hours in make-up for each filming session!
Richard Hope & Karen Gillan in Doctor Who (2012)
Richard Hope has also made several film 'shorts' since his first one, Margie and Me (1978), in which he played a policeman. These include Dogplant (1988), Swords at Teatime (1992), The Last Post (1995) and Bloom (2004).
Over the years, Richard Hope has appeared in a number of commercials advertising John Smith's lager, Vauxhall cars, Uncle Ben's rice and Nat West bank, in which he famously appeared wearing wings! His latest one is for Land Rover.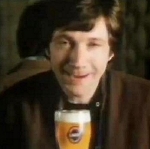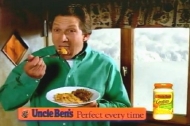 Uncle Ben's sauces
Nat West Bank
John Smith's lager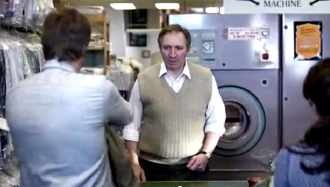 Richard Hope in the 2012 commercial for Land Rover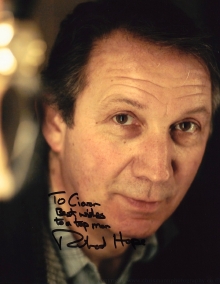 Richard Hope has also had a long stage career. Some of his early roles were with the comedian Ken Campbell's Science Fiction Theatre of Liverpool
Liverpool. These included and included several characters in The Warp (1978), and the Ford Prefect in The HitchHiker's Guide to the Galaxy (1979) and MacCruskeen in The Third Policeman (1980).


Richard later had National Theatre roles in Shakespeare's Much Ado About Nothing (1981), The Government Inspector (1985), Pravda (1985) and Hamlet (1986). The Visit (1988 & 1991), in which Richard Hope played
In Tolstoy's Anna Karenina, he played the lead role of Levin in both of its runs, the first in 1993 at the Lyric Theatre in Hammersmith, and then on tour to New York, Brisbane and Buenos Aires in 1998. More Tolstoy came in the play War and Peace (1996) at the National Theatre, with Richard playing Pierre.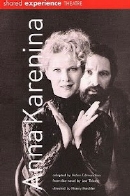 played The Mayor, was the play that established the relationship of Complicite (the experimental theatre company founded in 1983 by Simon McBurney) with the National Theatre. Richard remains an Associate Member of Complicite.

Much Ado About Nothing
Anna Karenina programme
After playing the title role in Shakespeare's Cymbeline
Cymbeline (2001) at The Globe Theatre, Richard Hope's next success was as John Wheelwright in John Irving's A Prayer for Owen Meany (2002) atthe
at the National Theatre.
Richard Hope in
After a five-year break from the stage Richard Hope has appeared in no less than eight plays in the past five years. He played Norman Tate in Donkeys' Years (2007) and The Hiker in The Hour We Knew Nothing of Each Other (2008) at theNa
Richard Hope in Noises Off
When the Rain Stops Falling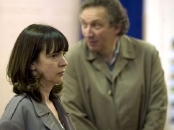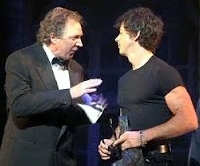 Richard Hope & Johnny Wright in Dirty Dancing
In 2011, Richard played Commander Goodman in There is a War, and Russell
Russell in The Swan. These two new plays under the overall title of Double Feature, were performed at the National Theatre's
In March 2012, Richard was cast in the role of Horst Ehmke in the fast-moving spy thriller Democracy, part of the Michael
Theatre's Paintframe location.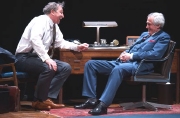 Richard Hope & Patrick Drury in Democracy
Michael Frayn season at the Crucible Theatre in Sheffield. Its success led to a 6-week run in June 2012 at London's Old Vic. In August 2012, he will play the Duke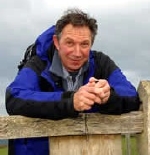 After living in London for many years, Richard moved to Tenby in Pembrokeshire where he can pursue his love of walking and cycling. He is married with two children.


Richard Hope
Duke of Albany in Shakespeare's King Lear, alongside Jonathan Pryce in the title role, at the Almeida Theatre in London.
Be sure to visit Richard's Official Website
Click

VIDEOS
Richard has signed this photo to me

had to sing and dance for the first time on stage!
BBC Play for Today By Common Consent, which was written especially for the National Youth