Sherrie Hewson
Click on a name below to take you to that page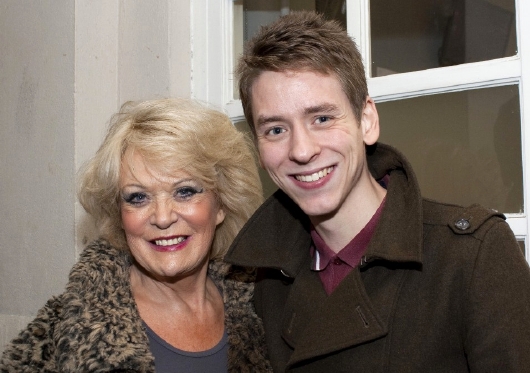 It was lovely to meet Sherrie Hewson at the De Montfort Hall in Leicester in December 2015. She was starring in the pantomime Snow White, and she agreed to meet me before the performance to sign my Carry On poster, my Carry On book and a photo from Carry On Behind. My dad and I had a long chat with her about the Carry On films, Benidorm and even the Nottingham trams!! Meeting Sherrie and seeing the brilliant pantomime made for a really memorable evening.
Sherrie Hewson (b. Sherrie Lynn Hutchinson) was born in 1950 in Beeston, near Nottingham. Her mother Joy, was a model, and her father Ron, a singer. She has an older brother, Brett. She was enrolled at the Dorothy Grants High School for Girls in Beeston when she was six, and later attended the village primary school in Burton Joyce where the family had moved to. As a child, Sherrie performed in revues, on stage in many parts of the UK.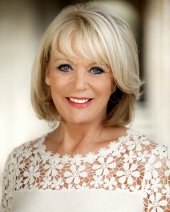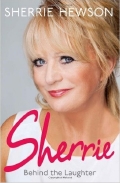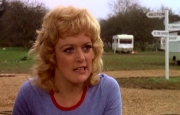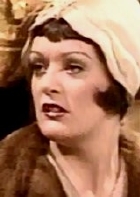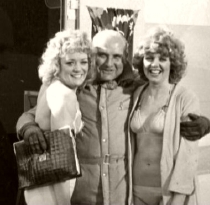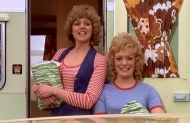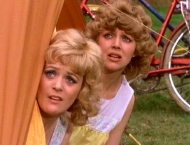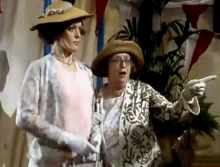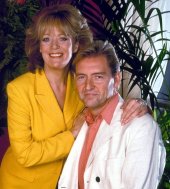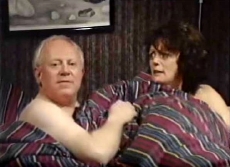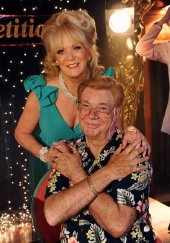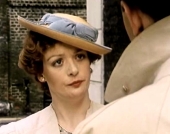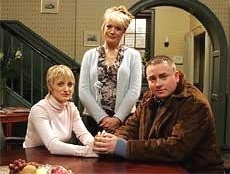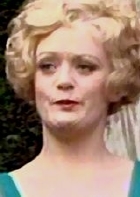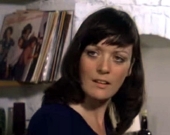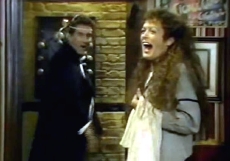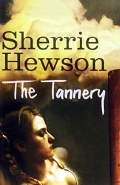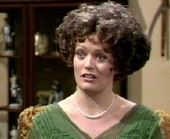 After leaving school Sherrie gained a scholarship to attend the Royal Academy of Dramatic Art. She first appeared on television in 1971 as Tina Williams in an early episode of the police series Z Cars, followed by an episode of the series The Mooonstone (1972).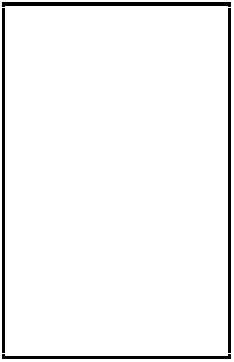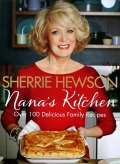 Sherrie Hewson in Carry On Behind in 1975
Appearing in Carry On Behind led to Sherrie being cast in several episodes of the Carry On Laughing (1975) TV series, appearing as different characters in four of the thirteen episodes specially
Her big break came when she was cast as Carol in one of the iconic Carry On series directed by Gerald Thomas. In Carry On Behind (1975), Sherrie has a longs
Sherrie with Gerald Thomas & Carol Hawkins
a hilarious scene with Carol Hawkins,
Jack Douglas
and Windsor Davies filmed (as was the whole movie) in the muddy grounds of Pinewood Studios.
With Carol Hawkins in Carry On Behind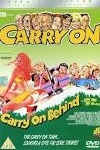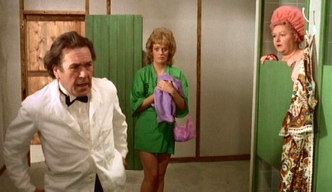 Peter Butterworth, Sherrie Hewson & Joan Sims in Carry On Behind
specially made for the small screen. Produced for ATV, these 30 minute episodes were spoofs of books, plays or films like King Arthur and Lord Peter Wimsey. They were an attempt to reverse thedeclining
the declining cinema audiences for the Carry On films, by transferring the franchise to TV. Many of the original cast appeared in these TV episodes. Sherrieapeared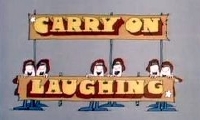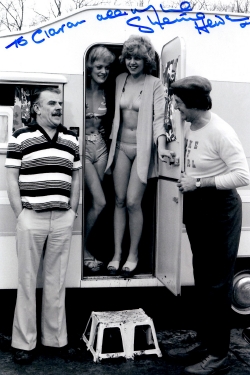 As Nurse Millie Teazel
As Virginia Bulgeon-Plunger
As Irma Klein
Sherrie appeared as three different characters in four different episodes. She was Nurse Millie Teazel in The Case of the Screaming Winkles, Irma Klein in The Case of the Coughing Parrot and Virginia Bulgeon-Plungerinboth
Carry On Laughing titleboard for the ATV series
Plunger in both And In My Lady's Chamber & Who Needs Kitchener?
Athough she had further big-screen roles - Palatine in The Slipper and the Rose (1976) and Phyllis in Hanover Street (1979) - it would be television where she would appear regularly. Love for Lydia (1977), The Sandbaggers (1980), Minder (1980), Honkey Tonk Heroes (1981) and all sixepisodes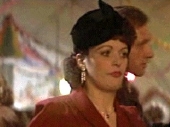 Kitchener?
six episodes of Winston Churchill: The Wilderness Years (1981) were some of the series in which she became better known.

Sherrie Hewson in 1977
As Phyllis in Hanover Street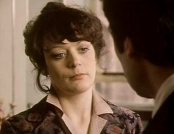 Sherrie Hewson as Betty Galthorpe in
Winston Churchill: The Wilderness Years
The Sandbaggers
Sherrie Hewson as Mrs Pearman in
Sherrie Hewson as Olive in
Minder: The Old School Tie
She also worked alongside Thora Hird in the series In Loving Memory (1979-1986). This was a period sitcom set in a Yorkshire undertakers business run by widow Ivy Unsworth (Thora Hird) and her gormless nephew Billy (Christopher Beeny). Sherrieappeared
Sherrie had a penchant for comedy, and found a niche for herself in the popular series The Russ Abbott Saturday Madhouse (1982-1984) and The Russ Abbott Show (1988-1991).
Russ Abbott & Sherrie Hewson in
The Russ Abbott Christmas Show 1989
Sherrie appeared in ten episodes. In the first two, she is Billy's girlfriend Doreen Nesbitt. In the third she is cast as Ernie's bride to be Mary Braithwaite, but in her remaining seven episodes, she plays Billy's new wife Mary Henshaw.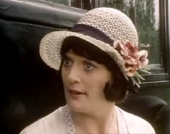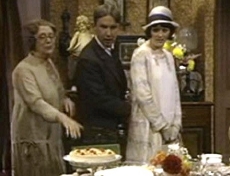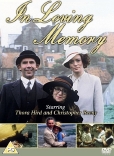 Sherrie Hewson as Doreen Nesbitt in
In Loving Memory: The Honeymooners
Thora Hird, Christopher Beeny & Sherrie Hewson in
In Loving Memory: The Honeymooners
Sherrie Hewson & Thora Hird in
In Loving Memory: King of the Mountains
In 1993, Sherrie landed the role that has been a dominant feature in her career, that of Maureen Naylor in Coronation Street. Maureen was recruitedto
recruited to the staff of Bettabuys Supermarket, where Reg Holdsworth (played by Ken Morley) was the manager.

They later married, and their wedding night episode has become one of the soap's most memorable. Whilst Reg andMaureen
Ken Morley & Sherrie Hewson in their wedding scene in Coronation Street
and Maureen were in their water bed, downstairs neighbour Derek Wilton drills through the floorand
floor and punctures the bed, flooding the flat and humiliating Maureen! They eventually divorced, and future Corrie storylines saw Maureen first marrying butcher Fred Elliott (played by
John Savident
) and later Bill Webster (played by Peter Armitage). Sherrieleft
Reg & Maureen find their water bed is leaking!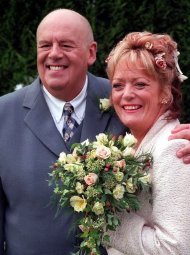 Sherrie left the show after 221 episodes, in 1997, after new producer Brian Park axed a number of long standing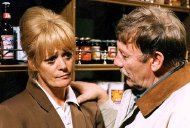 standing characters. She did, however, return for two further episodes in 2006.
Sherrie Hewson joined the cast of another long-running soap in 2001 as the catty VirginiaRaven
With John Savident in Coronation Street
With Peter Armitage in Coronation Street
Virginia Raven in Crossroads, but only appeared in three episodes.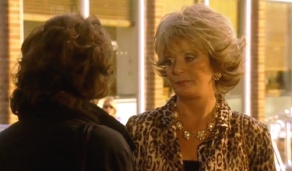 More successful was her association with the soapEmmerdale
soap Emmerdale, in which she played Lesley Meredith in 19 episodes from 2004-2006.
Barbara was a sitcom set in Nottingham, and its 29 episodes date from1995
With Nicola Wheeler & Dale Meeks in Emmerdale
Gwen Taylor & Sherrie Hewson in Barbara
from 1995 until 2003. It starred Gwen Taylor as Barbara,
Sam Kelly
as her husband Ted and Sherrie Hewson as Barbara's sister Jean. Barbara's house was located in Sandford Road, Nottingham, very close to where I live, and TV crews and cast were often to be seen there filming for the series.
In 2012, Sherrie joined the cast of another sitcom Benidorm, which follows a group of holidaymakers in Alicante, Spain who are determined to get as much as they can for their money from their cheap package holiday. Sherrie plays Joyce Temple-Savage, thenewm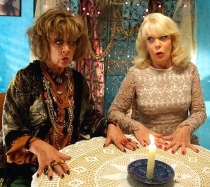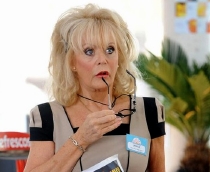 Sherrie as Joyce Temple-Savage in Benidorm
With Matthew Kelly in Benidorm
the new manager of the Solana Hotel, who started working at the hotel pretending to be a guest to assess the quality of the work staff were doing there. Sherrie says of Benidorm, which is actually filmed there, "Every kind of character you couldwishfor
could wish for is there, from Joyce and Kenneth to Liam. Everybody can relate to one of the characters." She told me when I met her that Benidorm is done in much the same tradition and spirit as the Carry On films. It has had several Award nominations
With Amanda Barrie in Benidorm
nominations, and has won a TV Quick Award for 'Best Comedy Show' in 2008, and also the National Television Award for the 'Most Popular Comedyprogramme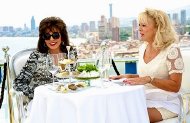 With Joan Collins in Benidorm
Comedy Programme' in both 2008 & 2011.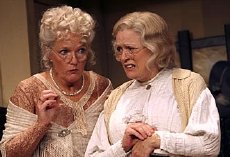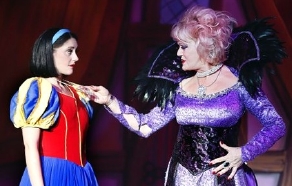 Sherrie Hewson's stage work includes Arsenic and Old Lace, where she plays Martha
Louise Jameson & Sherrie Hewson in
Arsenic and Old Lace
Sarah Accomando & Sherrie Hewson in Snow White in 2015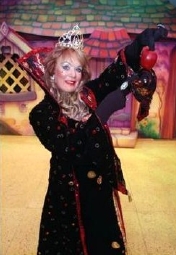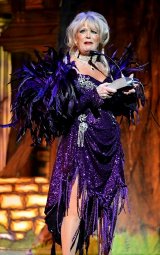 In Snow White in 2004
In Jack and the Beanstalk in 2012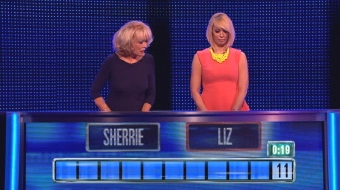 In 2015 she was one of the housemates for Celebrity Big Brother alongside comedian Bobby Davro, actor Daniel Baldwin, model Janice Dickinson, Atomic Kitten singer Natasha Hamilton and fifteen others. She lasted 29 days in the house, and finished in sixth place. However, many people criticised her 'for being too boring'!
Sherrie Hewson & Liz McLernon in the final round of The Chase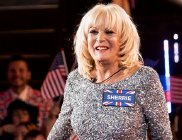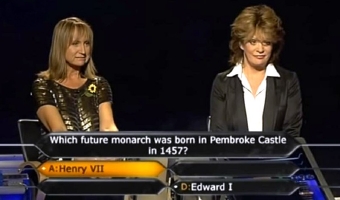 Sherrie entering the Big Brother house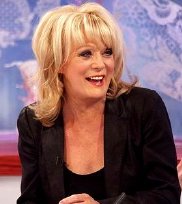 Sherrie in Loose Women
Carol McGiffin & Sherrie Hewson win £75,000 on Who Wants to be a Millionaire?
Sherrie has been a regular panellist on the lunchtime TV show Loose Women since 2003 and, by the end of 2015, had appeared in 822 episodes of the show, in which four women chat about news, issues and life in general. Only Carol McGiffin, Andrea McClean and Coleen Nolan have taken part more times. In 2007 Sherrie teamed up with Carol McGiffin for a celebrity edition of Who Wants to Be a Millionaire? winning a cheque for £75,000 for the charities 'Only Foals and Horses' & 'Help the Hospices'.
Sherrie Hewson
Sherrie Hewson is also a writer, with a crime fiction novel The Tannery to her name. This was published by Pan Books in 2009 after she won the BBC reality show Murder Most Famous (2008), the prize for which was an opportunity to have her book published. She has also written a cookbook called Nana's Kitchen.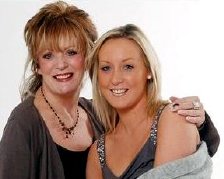 Sherrie & daughter Keeley
Sherrie & ex-husband Ken Boyd
In 2011, Sherrie's autobiography Behind The Laughter was published
Martha Brewster (alongside Louise Jameson as Abby Brewster) one of two elderly sisters with a liking for poisoning elderly pensioners and burying them in their garden. The play wentonasucc
went on a successful UK tour 2006. Sherrie has also appeared as Mother in Billy Liar at London's King's Head Theatre in 1998, and as Freda Jefferies in Murder Mistaken at the Windsor Theatre Royal in 2004. She has also appeared pantomime from time to time. Her most recent being Jack and the Beanstalk at Wolverhampton in 2012, Aladdin at Hull in 2014 and Snow White at the De Montfort Hall, Leicester in 2015. Sherrie had previously appeared in Snow White at Derby in 2004.
Sherrie is in considerable demand to appear as herself in various productions. She has appeared regularly on game shows, and these have included Call My Bluff, Blankety Blank, Celebrity Pointless, Family Fortunes, Soapstar Superchef, The Chase and Celebrity Squares to name but a few.
Sherrie has signed my photo from Carry On Behind

VIDEOS
Coronation Street
- waterbed scene
Loose Women
- Sherrie's birthday surprise
published. It tells, with great warmth and humour, of the many successes of her career, but also reveals in much detail many of the low points in her life. These include bankruptcy and her marriage & relationship breakdowns. Her husband was Ken Boyd whom she married in 1983. They had a daughter Keeley (born in 1984), but later divorced in 2011. Sherrie's cousin is the former professional footballer Gary Birtles, who played for his local clubs Nottingham Forest and Notts County for most of his career.
Carry On Laughing
- all 13 episodes