Guy Hamilton's early films included J B Priestley's An Inspector Calls (1954) with Alec Guinness & Sir Ralph Richardson, and The Colditz Story (1955) which he both co-scripted and directed.
Guy Hamilton was born in France in 1922, and served in the Royal Navy during WW2. He learnt the art of film directing as Assistant Director to Carol Reed (The Fallen Idol, 1948), Orson Welles (The Third Man, 1949) and John Huston (The African Queen, 1951).
I met legendary film director Guy Hamilton at Autographica in London, October 2005. He signed four of my lithographs - one for each of the Bond films he directed. I gave him a video of the time I appeared on "The Antiques Road Show - The Younger Generation" when Hilary Kay interviewed me about my James Bond collection. I later got a letter from him (from Spain) thanking me for the video and sending me a signed photograph.
During his career, Guy Hamilton has directed 22 films in total.
Following his Bond series, Hamilton turned his hand to Agatha Christie, directing The Mirror Cracked (1980) with Angela Lansbury as Miss Marple, and then Evil Under The Sun (1982) with a star-studded cast that included Peter Ustinov as Hercule Poirot, James Mason, Diana Rigg and Maggie Smith.
Hamilton directed his second Bond film with Sean Connery, Diamonds Are Forever, in 1971 and then followed this with two more, Live And Let Die (1973) and The Man With The Golden Gun (1974), both with Roger Moore as 007.
Hamilton hit the big time with his first James Bond film Goldfinger (1964), and setting the standard by which all other Bond films will be judged.
1969 saw the production of Battle Of Britain, containing some superb aerial fight scenes, with Guy Hamilton directing many famous names in their cameo roles.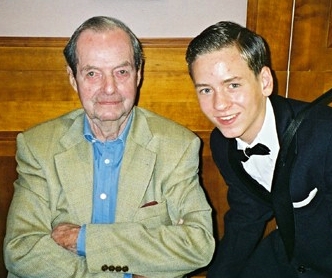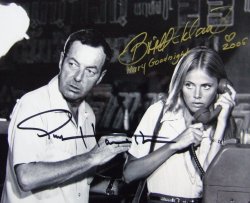 Guy Hamilton signed this photograph for me of him
directing the film The Man With The Golden Gun.
I later got Britt Ekland to add her signature as well.


Click on a name below to take you to that page
Guy Hamilton (1922-2016)
Guy Hamilton died at the age of 93 on 21st April 2016 at his home in Majorca, Spain.