Michael J. Fox
Click on a name below to take you to that page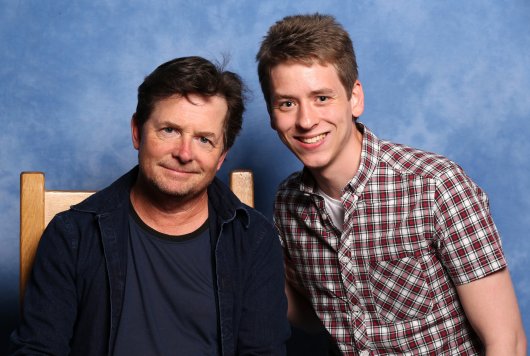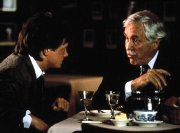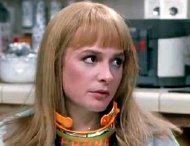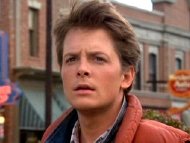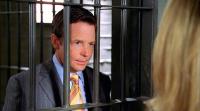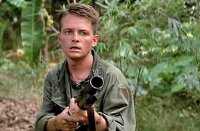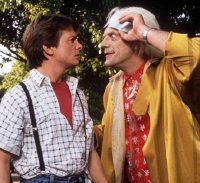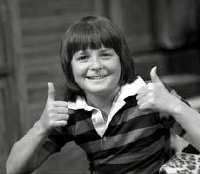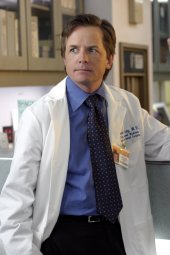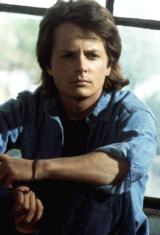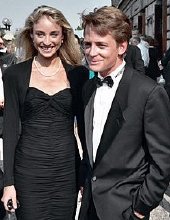 Michael Andrew Fox was born in Edmonton, Canada in 1961. He would later use the middle initial "J" professionally, in order to distinguish himself from another actor named Michael Fox. He was the youngest of five children born to Bill and Phyllis Fox. He struggled in school to compete in his favourite activity, ice hockey, because of his height (he is only 5' 4"), and instead turned his attentions to drama.
I was delighted to meet Michael J. Fox, star of one of my favourite film series, Back To The Future, at the London Film and Comic Convention held at Olympia in July 2015. It was a very rare opportunity to have my photograph taken with him.
Michael J. Fox as Jamie in Leo and Me
In 1976, when only 15 years old, Fox made his professional debut (using the name Mike Fox) in the CBS series Leo and Me, playing a 10-year-old, Jamie. Afterstarring
After starring as Frank in the TV movie Letters from Frank (also filmed in Canada), Fox dropped out of high school and travelled, with his father, to Los Angeles, California, in search of an acting career. Whilst there, he landed the role of Willy-Joe Hall in the family series Palmerstown, U.S.A. (1980-81). Healsojoined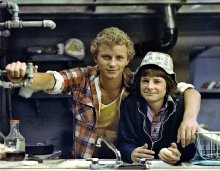 He also joined Walt Disney Productions to play Scott Larson for his movie debut - the fantasy comedy Midnight Madness (1980). Fox soon went on to achieve stardom in1982
Michael J. Fox & Brent Carver in Leo and Me
With Jonelle Allen in Palmerstown USA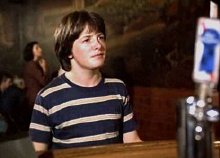 Michael J Fox as Scott Larson in Midnight Madness
in 1982 as Alex P. Keaton in 171 episodes of the TV series Family Ties (1982-1989), and it's spin-off TV movie Family Ties Vacation (1985).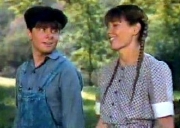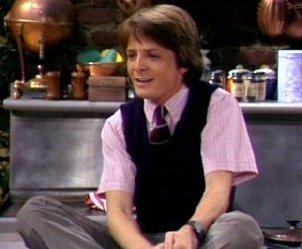 Michael J Fox as Alex P Keaton in Family Ties
In 1985 came Fox's first great success on the big screen, playing Marty McFly in Robert Zemeckis's zany romp
Back to the Future
(1985). This film, co-starring
Christopher Lloyd
as Dr Emmet Brown, has acquired a huge following, both in America and the UK. The sequels
Back to the Future II
(1989) and
Back to the Future III
(1990) followed soon afterwards, and were equally well received by audiences.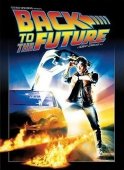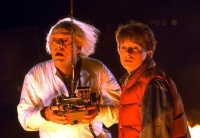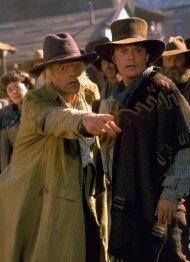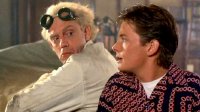 In the 1980s, Fox had comic roles in Teen Wolf (1985) and The Secret of My Succe$s (1987), but wanting to widen his range, he took on some unlikely roles. He played a factory worker, Joe Raznick, in Light of Day (1987); the cocaine-snorting Jamie Conway in Bright Lights, Big City (1988); and earned critical acclaim forhis
(above) Michael J. Fox & Christopher Lloyd in
Back to the Future
Michael J. Fox as Marty McFly in
Back to the Future 1
Michael J. Fox as Marlene McFly in
Back to the Future 2
Christopher Lloyd & Michael J. Fox in
Back to the Future 3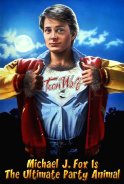 for his starring role as Eriksson in Brian De Palma's Vietnam saga Casualties of War (1989).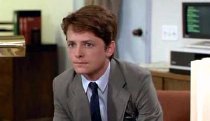 His portrayal of Lewis Rothschild in The American President (1995) also earned Fox accolades, but it was hisreturn
Fox as Scott Howard in
Teen Wolf
(above & left)
Michael J. Fox as Eriksson in Casualties of War
his return to primetime TV, playing Mike Flaherty in the ABC sitcom Spin City (1996-2001), that put Fox back in the public eye. Not only did he delight audiences on a weekly basis, but the schedule allowed him more time with his family.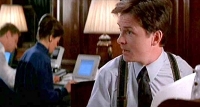 Michael J. Fox as Joe Rasnick
Michael J Fox as Mike Flaherty in Spin City
Michael J Fox as Kevin Casey in Scrubs
Michael J. Fox & Jason Robards in
Michael J. Fox as Daniel Post in Boston Legal
As Lewis Rothschild in The American President
Michael J. Fox in The Secrets of My Succe$s
In 1999, Fox voiced the title character (a little white mouse) in the film adaptation of the children's book by E.B.White called Stuart Little.
Bright Lights, Big City
Virtually all of Fox's worksince
work since has been TV based. He guest-starred in the TV comedy Scrubs (2004) as Dr. Kevin Casey, a surgeon with obsessive-compulsive disorder. He appeared in the recurring role of Daniel Post in six episodes of the drama Boston Legal (2006), for which he gained an Emmy nomination (Best Guest appearance).
Appearance). Fox played the character Dwight in six episodes of the dark drama series Rescue Me (2009), and in the same year, his TV special Michael J. Fox: Adventures of an Incurable Optimist, based on his best-selling book of the same title, was aired on ABC.
Fox has made guest appearances in such TV series as Curb Your Enthusiasm (2011) and The Good Wife (2010-2015), in which he was nominated for an Emmy award. He later starred as Mike Henry in a new sitcom The Michael J. Fox Show (2013-2014)
in Light of Day
It was at the end of 1999 that Michael J. Fox announced that he had been battling Parkinson's disease since 1991, and had undergone brain surgery to try and alleviate the condition. Despite Spin City's incredible success in whichFox
which Fox won both an Emmy and a Golden Globe, he announced in early 2000 that he would be leaving the show after its 100th episode, to spend time with his family and to concentrate on raising money and awareness for Parkinson's disease.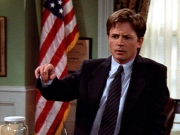 In 1988, Fox married actress Tracy Pollan (who played Alex Keaton's girlfriend Ellen, in Family Ties). The couple has four children - son Sam, twin girls Aquinnah and Schuyler, and daughter Esmé. In December 2002, Fox was honoured with a star on the famous Hollywood Walk of Fame.
disease. He then launched the Michael J. Fox Foundation for Parkinson's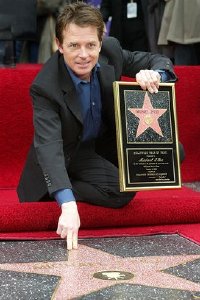 Parkinson's Research, a non-profit organization dedicated to finding a cure for Parkinson's disease.

Michael J. Fox and his 'Walk of Fame' star
Tracey Pollan & Michael J. Fox

VIDEO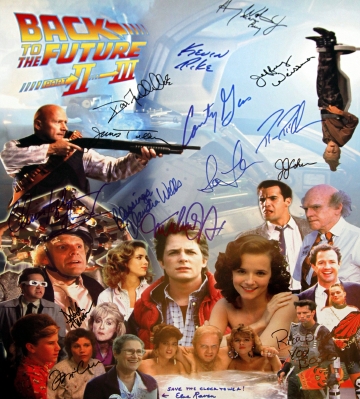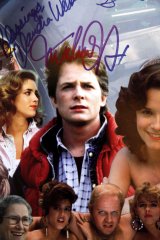 My Back to the Future poster signed by sixteen members of the cast
Michael J. Fox has signed my poster