Jim Dale
Click on a name below to take you to that page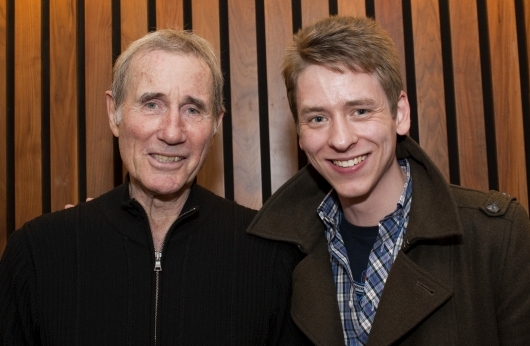 I met Jim Dale after seeing him perform in his brillliant one-man show Just Jim Dale at The Cube theatre in Corby, Northamptonshire, in April 2015. He signed my Carry On poster, my Carry On book, a photograph and a lobby card from Carry On Cowboy. My dad then took this photograph of us.
Jim Dale was born James Smith in Rothwell, Northamptonshire, in 1935. His parents were William Smith, a steel foundry worker and Miriam Smith who worked in a shoe factory. He has a younger brother M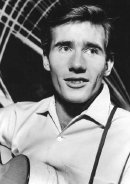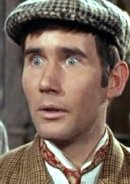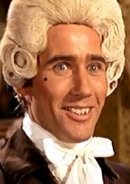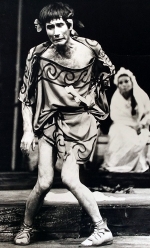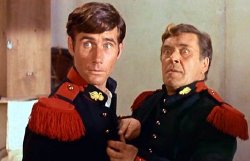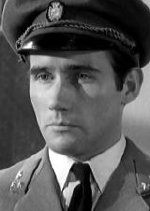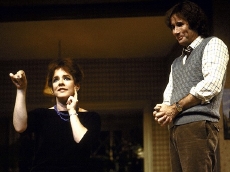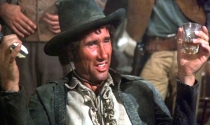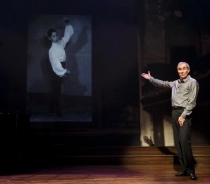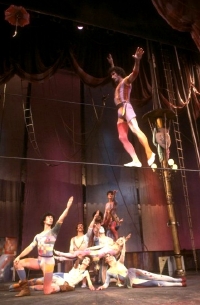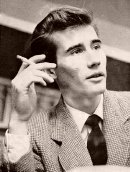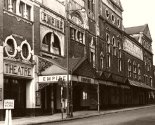 Jim Dale's professional debut was
at the Empire Theatre in Nottingham
brother Michael who became a welder. Jim was educated at Kettering Grammar School which he left when he was sixteen.
He learnt various types of dancing at school - ballet, tap and ballroom, and also tumbling and acrobatics. He then went on to do impressions before joiningCarrol
Jim Dale
joining the Carrol Levis touring show as a tumbling act, his first appearance being at the Nottingham Empire.

Jim Dale 1960s musician
Jim changed his surname in 1954 when it mistakenly appeared in print as Jim Dale. He decided to keep it, particularly as there were two other British comics named Jim Smith around at the time.
Jim Dale was also a singer, and he began to add more music to his stage act. He appeared in (and later hosted) the TV series The Six Five Special (1957-1958) and Thank Your Lucky Stars (1962-1966). He later released singles like Piccadilly Line, Be My Girl and Sugartime on the Parlophone label.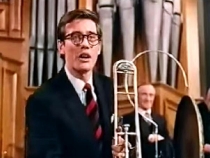 Parlophone label. However, his recording career was not the success that he had hoped for, and he turned his talentsto
talents to film comedy. Raising the Wind (1961), Nurse on Wheels (1962) and The Iron Maiden (1962) led to him becoming a regular in the popular "Carry On" series of British movies. He was initially signed up for just a small part in Carry On Cabby, but the audience reaction to him was so enthusiastic that he quickly became a regular member of the cast.
Jim Dale in Raising the Wind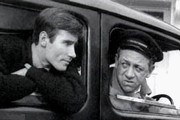 The complete list of Jim Dale's 11 Carry On films are: Carry on Cabby (1963); Carry on Jack (1963); Carry on Spying (1964); Carry on Cleo (1964); Carry on Cowboy (1965); Carry on Screaming! (1966); Don't Lose Your Head (1966); Follow That Camel (1967); Carry on Doctor (1967); Carry on Again Doctor (1969) and Carry on Columbus (1992).
Jim Dale & Sid James in Carry On Cabby
Jim Dale's Carry On Gallery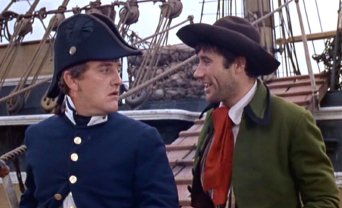 Bernard Cribbins & Jim Dale in Carry On Jack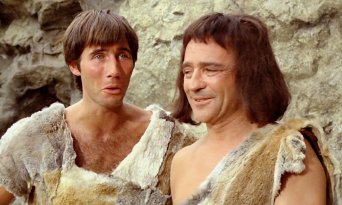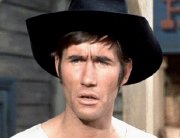 Jim Dale as Carstairs in
Carry On Spying
Jim Dale as Marshal P Nutt in
Carry On Cowboy
Jim Dale & Kenneth Connor in Carry On Cleo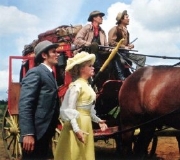 Jim Dale & Angela Douglas in
Carry On Cowboy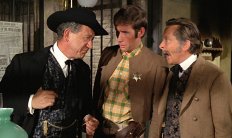 Sid James, Jim Dale and Kenneth Williams in
Carry On Cowboy
Jim Dale and Peter Butterworth in
Carry On: Follow That Camel
As Albert Potter in
As Lord Darcy Pue in
Carry On Screaming
Don't Lose Your Head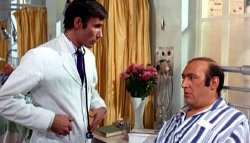 Above: Jim Dale & Bernard Bresslaw in Carry On Doctor
Jim Dale & Frankie Howerd in Carry On Doctor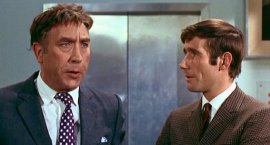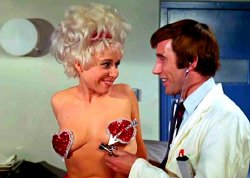 Barbara Windsor and Jim Dale in Carry On Again Doctor
Other films followed including Adolf Hitler - My Part in His Downfall (1972); Digby - The Biggest Dog in the World (1973), in which he plays Spike Milligan (with Milligan playing his own father) and The National Health (1973).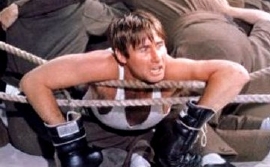 Jim Dale in Adolf Hitler: My Part in his Downfall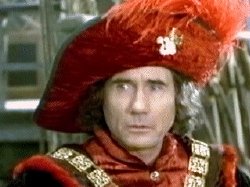 Jim Dale as Christopher Columbus in Carry On Columbus
Further film success came in America as the villainous Dr. Terminus in Walt Disney children's musical Pete's Dragon (1977). In another Disney production Hot Lead and Cold Feet (1978), Dale plays three characters, Old Jasper Bloodshy and his two sons Wild Billy and Eli.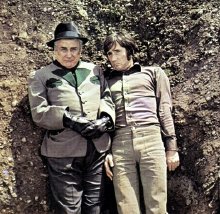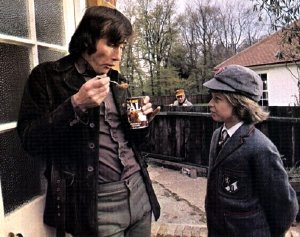 (above & left) Jim Dale, Spike Milligan & Richard
Disney's Unidentified Flying Oddball (1979)which
Beaumont in Digby,The Biggest Dog in the World
(1979), which was released in the U.K. as The Spaceman
Spaceman and King Arthur, has Jim Dale as the evil knight Sir Mordred, alongside a cast of familiar British actors of the day, including Kenneth More, Rodney Bewes, John Le Mesurier & Ron Moody.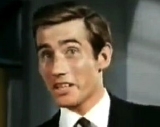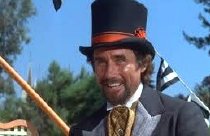 (above) Jim Dale in Hot Lead and Cold Feet
(below) Jim Dale in Pete's Dragon
Dale as a salesman in The Iron Maiden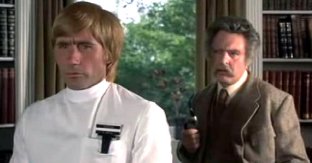 Jim Dale as Dr Boyd with Donald Sinden in The National Health
In 1970 Sir Laurence Olivier invited Jim Dale to join the National Theatre in London. At the Young Vic, Dale hecreated
created the title role in Scapino (1970), which he had adapted from Moliere, and also written the incidental music for the play. After only ten performances, it transferred to Broadway, and ranthere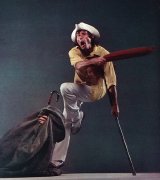 In the late 1960s, Dale began to work in plays in London, using his comic talent to portray humorous Shakespearean characters like Bottom in A Midsummer Night's Dream. He also appeared in, and wrote music for, a film version of TheWinter'sollowing
ran there very successfully, for another 121 performances.

Jim Dale in the title role of Scapino
Stockard Channing & Jim Dale in
A Day in the Death of Joe Egg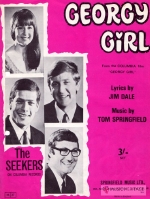 Jim Dale as Bottom in
A Midsummer Night's Dream
Sheet music for Georgy Girl
In collaboration with Tom Springfield, Jim Dale wrote the lyrics for the title song of the film Georgy Girl (1966). It was performed on the film's soundtrack by The Seekers, who then released it as a single that reached number twoin
two in America and number three in the U.K. in 1967. It has now become a popular standard, covered on albums by Ray Conniff, Percy Faith, Matt Monro and many others. This success led to other songwriting opportunities for Dale. He wrote songs for the filmsSha
The Winter's Tale following a stage production at the Edinburgh Festival in 1966. In 1985, he appeared in the Broadway play A Day in the Death of Joe Egg for a 102 performances, earning him a Tony nomination.
films Shalako (1968); Lola (1969) and Lock Up Your Daughters! (1969). His song King'sRoad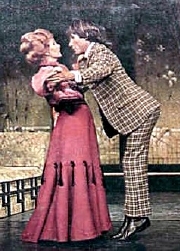 King's Road better known as "Dick-A-Dum-Dum", became a British Top 20 hit in 1969 for Des O'Connor.

Jim Dale & Millicent Martin in The Card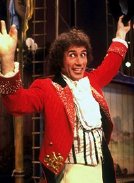 Musical theatre was always goingto
Jim Dale in Barnum
Jim Dale learnt to tightrope walk for Barnum
going to be Dale's forte. In 1973, he starred in the new musical, The Card which ran for 130 performances at the Queen's Theatre. He then found his ideal stage part in 1980 when he was given the title role of showman P.T. Barnum in the Broadway musical Barnum, at the St James' Theatre appearing opposite Glenn Close. He had to perform various circus skills on stage including tightrope walking and juggling. The show, which opened in 1980,was
in 1980, was a huge hit, and running to 854 performances. Dale's performance won him a Tony award for 'Best Actor in a Musical', and Columbia recorded a cast album.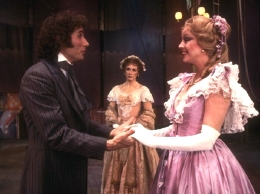 In 1987, Dale replaced Robert Lindsay in the Broadway production of the 1930s British musical Me and My Girl, and two years later heappeared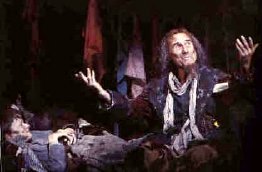 Jim Dale as Fagin in the musical Oliver!
Jim Dale, Marianne Tatum & Glenn Close in Barnum
he appeared in 64 performances of the off-Broadway show Privates on Parade. Other productions include the off-Broadway production of Travels with My Aunt (1994-95), a West End revival of Oliver! (1996) in which he played Fagin, and a 1997 Broadway revival ofoLeonardB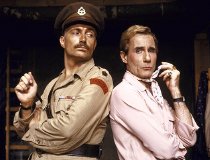 Simon Jones & Jim Dale in Privates on Parade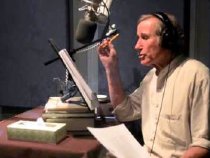 Jim Dale recording Harry Potter: The Fire Chronicle
More recently, Jim Dale has become famous as the narrator of the American best-selling audiobook versions of all seven books in J K Rowling's Harry Potter series. He has also madeit
of Leonard Bernstein's musical Candide (1997).
Jim Dale reads Harry Potter
made it into The Guinness Book of World Records for creating more character voices in an audiobook (over 200) than any other narrator.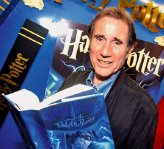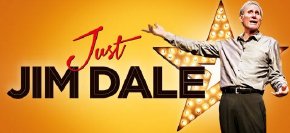 In 2014, Jim Dale appeared at the New York City Theatre with his first ever solo show Just Jim Dale. It is a mixture of anecdotes, stories and songs taking the audience through his sixty years in films and the theatre.
theatre. I was lucky enough to seetheshow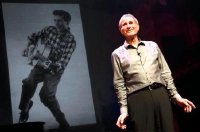 Just Jim Dale
Just Jim Dale
see the show in Jim's home town of Corby, before it moved the the Vaudeville Theatre in London's West End for its 4-week run at the Vaudeville Theatre.
In 2004, he was awarded the M.B.E. (Member of the British
Jim Dale has been married twice. He married his first wife, Patricia Gardiner a nurse, in 1957 and they had one daughter Belinda (b.1957), who died of leukaemia in 1995, and three sons. Murray Dale (b.1960) was a childactor

Toby Dale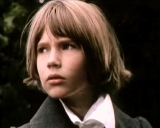 Murray Dale in Boy Dominic
child actor in the children's television series Boy Dominic (1974), who now runs a film & TV set-design company in London. Adam Dale (b.1963) is an award-winning aerial cine-photographer
British Empire) for his work in promoting English literature to children.
photographer who worked on the Harry Potter films. Toby Dale (b.1966) appeared in the film Carry on Columbus and was married to the actress SarahCrowe
Sara Crowe
until their divorce in 1998. Patricia died in 1977, and Jim married his second wife Julia Shafler, the owner of a New York Manhattan boutique 'Julie: Artisan's Gallery' in 1981.
Jim Dale and Julia Shafler