In 1976 Cernan retired from the Navy and NASA to work for Coral Petroleum. He later started his own consultation company, The Cernan Corporation. He has received a number of honours and awards including the NASA Exceptional Service Medal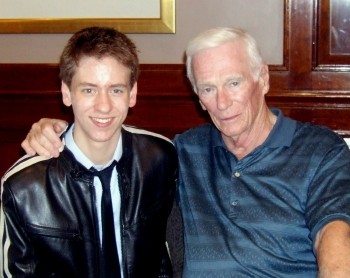 Eugene Cernan (pronounced 'Sernan') was born in Chicago in 1934. His father was Slovak and his mother was Czech. He grew up in Maywood, Illinois where he attended Proviso East High School. Like fellow astronauts Neil Armstrong and Buzz Aldrin, Cernan went to Purdue University, later becoming a US Navy aviator, flying jets. He has degrees in in both Electrical and Aeronautical engineering.
lunar rover, collecting geological samples.

Cernan is married to Jan and they have three daughters, and one grandchild.
Cernan's third space flight was as commander of Apollo 17 in December 1972. Ronald Evans was the command module pilot and Harrison 'Jack' Schmitt the lunar module pilot. Schmitt and Cernan landed at Taurus-Littrow where they set up an operations base to explore the moon's craters. The pair stayed on the moon for three days, covering over 35 kilometres in their
Cernan was one of fourteen astronauts selected by NASA in October 1963 to take part in the Gemini and Apollo projects. He was a pilot on Gemini IX in June 1966 and became the 2nd American to walk in space.
As Gene Cernan stepped off the moon's surface on to the steps of the lunar module, he became "the last man on the moon". He said:
The Apollo 17 mission ended with a successful splashdown in the Pacific Ocean on 19th December 1972.

In 1999 Cernan (with the assistance of journalist Don Davis) wrote a book called The Last Man On The Moon which covers his entire astronaut career from his first flight on Gemini IX to Apollos 10 & 17.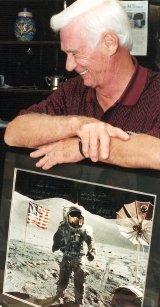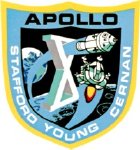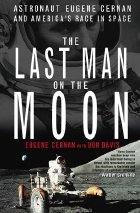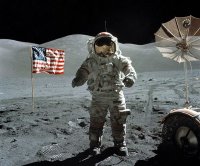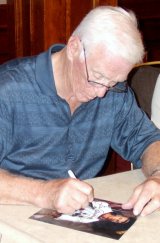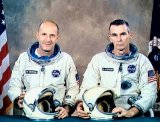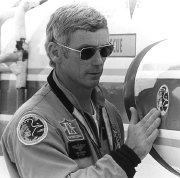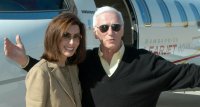 Captain Cernan's next space flight was as lunar module pilot, alongside Tom Stafford and John Young, on the historic Apollo X mission which was a really a "dress rehearsal" for the first manned moon landing in May 1969. The mission also photographed possible landing sites for future missions.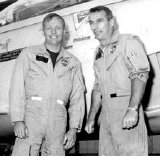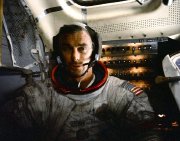 Gene Cernan was the last man on the moon. I met him at Autographica in London in October 2007.
You can see him signing one of his official NASA photos for me in the photograph below.

Stafford & Cernan (Gemini IX)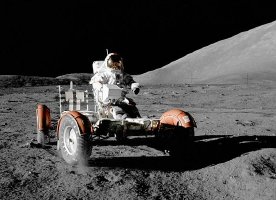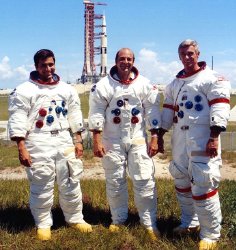 "As we leave the Moon at Taurus-Littrow, we leave as we came, and God willing, as we shall return, with peace and hope for all mankind. As I take these last steps from the surface for some time to come, I'd just like to record that America's challenge of today has forged man's destiny of tomorrow. Godspeed the crew of Apollo Seventeen."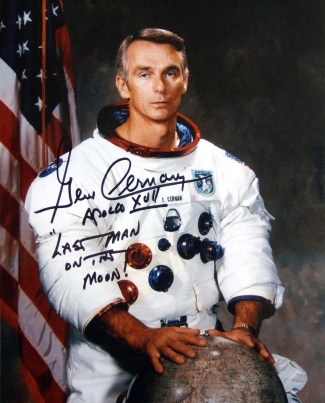 This is the photograph that Gene Cernan signed for me at Autographica
Gene Cernan with his wife Jan
Gene Cernan with a signed picture
of him on the Moon
Gene Cernan with a dusty spacesuit in the
lunar module after a moonwalk
Gene Cernan - the last man on the moon
and induction into the U.S. Space Hall of Fame.
Gene Cernan
First man on the moon Neil Armstrong
& last man on the moon Gene Cernan
Gene Cernan drives the lunar rover on the moon's surface
The crew of Apollo 17 - Harrison 'Jack' Schmitt
Ronald Evans and Gene Cernan
Before Cernan left the moon on the Apollo 17 mission, he remembered his daughter in a special way. "I drove the Rover about a mile away from the lunar module and parked it carefully so the television camera could photograph our takeoff the next day. As I dismounted, I took a moment to kneel and with a single finger, scratched my daughter Tracy's initials, 'TDC,' in the lunar dust, knowing those three letters would remain there undisturbed for more years than anyone could imagine."



Gene Cernan (1934-2017)
Click on a name below to take you to that page
Gene Cernan signing my photograph
Gene Cernan died on 16th January 2017, aged 82.