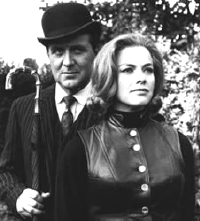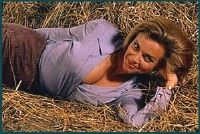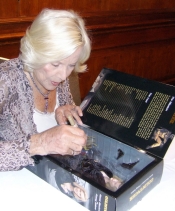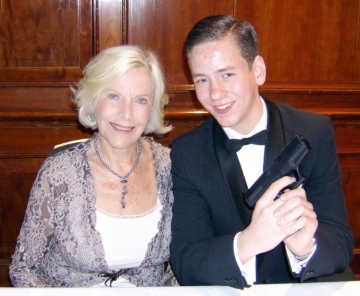 I really thought I was dreaming, as I sat there having my photo taken with one of the great Bond legends - Pussy Galore herself! What a thrill it was to meet Honor Blackman at Autographica in September 2006. She signed my Jeff Marshall lithograph, my Bond Girls book, two photographs and my Sideshow model. What lovely souvenirs of a day I shall remember for the rest of my life!
Her early films like The Glass Cage (1955) were unremarkable, but in the late 1950s she became more well known, this time through the medium of television. Firstly, it was in The Four Just Men, but then as the leather-clad Cathy Gale in The Avengers. This character, a judo expert, laid the foundation for her other roles where she played women who were more than a match for the men.
At school, she was outstanding at drama, and she eventually went to the Guildhall School of Music and Drama to study. She became a stage actress during her late teens, but in 1947 made her first (but uncredited) appearance in a film, starring Michael Redgrave.
Honor Blackman was born in London in the 1920s. When WW2 broke out she volunteered as a teenage motor cycle dispatch rider, delivering packages around war-ravaged London!!
After Goldfinger, Honor Blackman has had a very successful stage career, alongside film appearances, mainly in supporting roles - a recent one being in Bridget Jones' Diary (2001). Her TV appearances have been regular and varied, ranging from a sitcom The Upper Hand, to Doctor Who and Coronation Street!
Honor was the perfect actress to play the part of Pussy Galore in Goldfinger (1964), in which she has a memorable fight scene with Sean Connery, in a barn. Her character leads a Flying Circus act of female stunt pilots and her main objective is to dispense a lethal airborne nerve gas over Fort Knox so that Goldfinger and his Communist allies can break into the U.S. gold bullion depository and detonate a nuclear weapon.
Honor Blackman as Cathy Gale in The Avengers
Honor Blackman signing my Sideshow model
Honor Blackman as Pussy Galore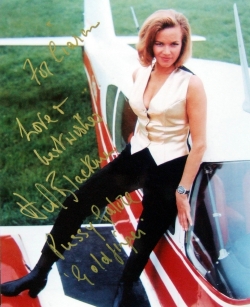 This is one of the photos that Honor Blackman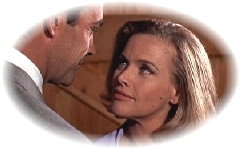 signed for me at Autographica
With Sean Connery in Goldfinger


Click on a name below to take you to that page
Honor Blackman (1925-2020)
Honor Blackman died on 5th April 2020.